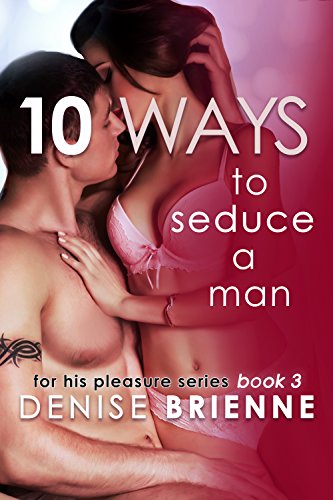 10 Ways To Seduce A Man - How To Be Seductive And Turn A Man On (For His Pleasure Series Book 3)
$2.99
(Please be sure to check book prices before buying as prices are subject to change)
So you want to seduce a man.

Maybe you simply want to walk into a bar and get the attention of the hottest guy in the place. Maybe you want to head to the dance club and shake your stuff with a dozen different eligible men. Perhaps you're in the mood to seduce your boyfriend into the hottest sex you have ever had, or maybe you want to shake things up with your husband. Either way, the rules of seduction remain the same whether you have been married for ten years or smiling at each other for all of ten minutes.

These rules of seduction are not secrets. In fact, you already use some of them instinctively. You probably already know some things that work and some things that don't. But the key to true seduction is learning to hone those skills until they become second nature.

Have you ever seen a woman at a club or bar who had no problem picking up men, even if she wasn't the best-looking woman in the place? That's because she knew those rules of seduction so well that she used them without conscious thought. They were ingrained in her. At some point, she had become a seductress and now she was using those skills without even trying!

That's what YOU can do, too.

You don't have to be a woman on the prowl to use these, though that is what the rules of seduction are most commonly used for. No, you can use these tips and tricks even if you have been married for a dozen years! Your husband, no matter how well he knows you, can still be pulled in by these laws of attraction, just as if he were a young, horny single guy looking for a hot woman to take home with him.

So without further ado, let's talk about what seduces a man and how you can use it all to your advantage, no matter what your situation is!

Digital Books

Book Length: Short Story – 0-60 Pages
More Books in this series from Denise Brienne
Leave a review about 10 Ways To Seduce A Man - How To Be Seductive And Turn A Man On (For His Pleasure Series Book 3). Login Now