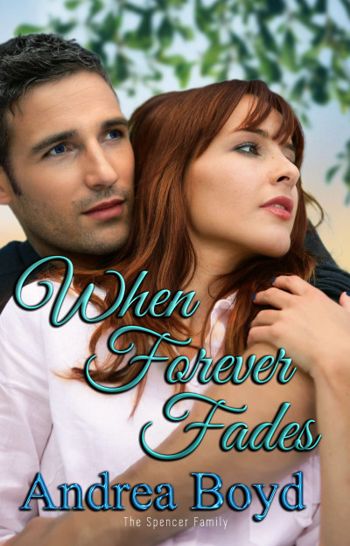 When Forever Fades
By Andrea Boyd
$3.99
(Please be sure to check book prices before buying as prices are subject to change)
One almost indiscretion
didn't count, right? Yet it could end up costing Grayson Turner everything.
When Belva Turner catches her
husband about to kiss another woman, her whole world comes crashing down. Well,
what's left of it anyway. Truthfully, trouble has been brewing in their
marriage since the birth of the twins. But this… this would be the end of it.
The end of their arguing. The end of trying but failing to make it work. The
end of their marriage.
Sure, he'd messed up big time, but
the last thing Grayson expected was to come home to an empty house. His
one mistake costs him everything he's spent his entire adult life building.
With nothing left to lose, Gray grasps the chance to make things right with God
and rebuild better this time.
Belva may be ready to
throw in the towel, but Gray will do whatever it takes to get his family back
and fix their broken marriage—even if it means facing the painful roots that
shaped who he is today. But how is he supposed to find redemption when his wife
has given up and walked away without a backward glance?
Digital Books

ASIN:
B08SKRDDH4
ISBN:
979-8714046636
Book Length: Novel – 150-320 Pages
Leave a review about When Forever Fades. Login Now