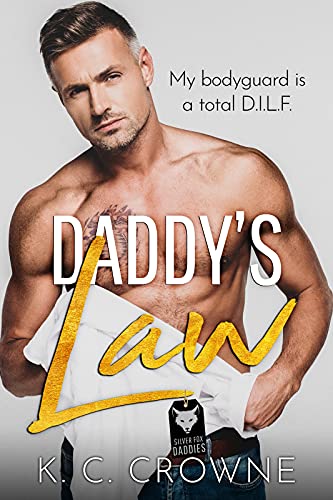 Daddy's Law
By K.C. Crowne
$0.99
(Please be sure to check book prices before buying as prices are subject to change)
20 years age gap.
HOT single daddy.
And my very bossy bodyguard.
It's wrong. It's taboo. It's
scandalous. 
But forbidden fantasies are the
best fantasies... right?
I've always been a good girl.
Played by all the rules.
But now my inner bad girl wants
out.
Theo is dark. Enigmatic. Incurably
broken...
And incurably fine.
He's also one h*ll of a devoted
father.
Should I be more worried about the
dangerous men after me?
Or the inappropriate feelings I
have for the man twice my age??
Theo
Ava's infuriating.
Uncooperative.
And makes me want to put her over
my knee and teach her a lesson.
The beauty arouses parts of me I've
had locked away for years.
But who the h*ll am I kidding? I'm
twice her age.
And her rich politician father
hired me to protect her. 
Not to make me her new 'Daddy'.
She's mine to protect. 
And I'll take great pleasure
bringing down the sick criminals after her.
But after that, I'll have to go far
far away. 
Because it's getting harder and
harder to control myself around the innocent beauty.


Digital Books

Book Length: Novel – 150-320 Pages
More Books in this series from K.C. Crowne