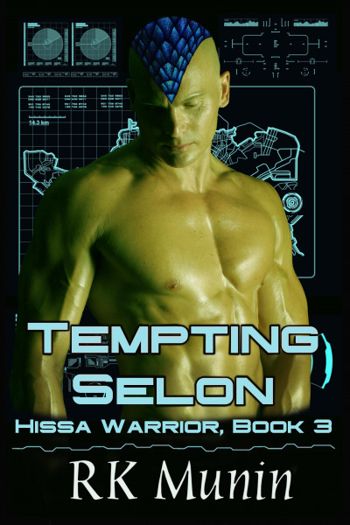 Tempting Selon
By RK Munin
$2.99
(Please be sure to check book prices before buying as prices are subject to change)
Created to be an ornamental slave, along with her twin sister, Lara Stray couldn't be more different than her dynamic sibling, Mara. While Mara managed to gain her freedom and eventually earn enough to own a ship of her own, Lara found herself being owned again. The twins couldn't have led more different lives.

Lara's path led her to be deeply traumatized, resulting in a fear of men and crowds. Which is just perfect when her sister Mara and mate Tiran rescue her from a ship under attack. Of course they're not alone. They've brought along a whole civilization of Hissa warriors desperate for females. What could possibly go wrong?

Although Hissa wants her to heal and find a male among them to enter into a Family Pact, Lara's convinced her broken mind will never allow her to get close to any of these males, let along engage in intimate relations. But then Selon enters her orbit, and everything seems to change.

He's perfect. Around him she feels calm. She can breathe and even talk about her past. Could this be the male for her? Would he even want someone as fundamentally broken as she is? Could she really find peace and happiness after so many years succumbing to anxiety and panic attacks?

But most important, can she find it in herself to fight her own fears to keep this male in her life?

Tempting Selon can be read as a standalone, although there are recurring characters from earlier novels in the series. This novel is 63,000 words long with a HEA.
Trigger warning: Lara has a traumatic backstory that includes rape.

Digital Books

Book Length: Novel – 150-320 Pages
More Books in this series from RK Munin
Leave a review about Tempting Selon. Login Now