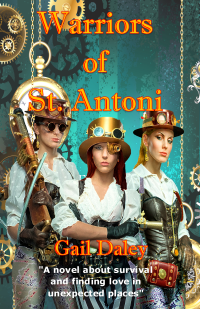 Warriors of St. Antoni
By Gail Daley
$2.99
(Please be sure to check book prices before buying as prices are subject to change)
Book 1 – St. Antoni The Forbidden Colony
"A novel of survival and finding love where you least expect it."
"Take a trip through a Wormhole to another world, then Mix a Shoot'Em Up Western with Victorian Steampunk, add a dash of mystery…"
"A fast-paced Sci-Fi novel of adventure and romance on an alien planet." 
After a sniper cripples their father, Sisters Bethany, Jeanne and Iris struggle to survive and hang on to their ranch and mine.
Bethany marries a mercenary gunfighter to shield her family from a predatory neighbor. To her surprise, the marriage of convenience turns into a love match, but Bethany and Alec must learn to trust as well as love each other.
Iris chooses an arranged marriage with a beloved old friend, but did Carlos marry her for love, or to please her father?
Jeanne and Samuel fall in love, but Samuel is the son of her family's greatest enemy. To be together, they run away to a distant city, but discover you can't escape who you are. Will their love be strong enough to survive when Samuel's father demands he return to the clan?
Digital Books





ASIN:
B07528VH1G
ISBN:
9781386691846
Book Length: Long Novel – 320-650 Pages
Leave a review about Warriors of St. Antoni. Login Now