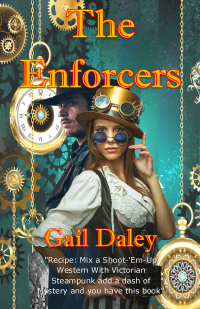 Free

$3.99

(Please be sure to check book prices before buying as prices are subject to change)

---
"This is novel about second chances."
"Take a trip through a Wormhole to another world, then Mix a Shoot'Em Up Western with Victorian Steampunk, add a dash of mystery…"
"A former assassin for hire plays a deadly game of cat and mouse with a serial killer"
Chloe was trained from a young age to be an assassin. Since her move to Junction City, she has been trying hard to reinvent herself as an investigator. But her first case has a huge complication: she finds Samuel Adams, the man she came to question, dead. He has a wicked knife sticking out of his groin. She didn't do it, but given her history, who will believe her? It looks as if her past is about to catch up with her.
Caleb Jones is a man with a violent past. After his family was destroyed in a city state war, he went to work at the only job he knew. As an Enforcer for the Marshals of the Federated City States of St. Antoni, he hunts killers. He came to Junction City looking for a serial killer. Instead he finds Chloe. Is she the killer he's looking for or the woman who can replace everything he lost?
Read More...
---
ASIN: B08MCVD28S
ISBN: 9781393088974
---