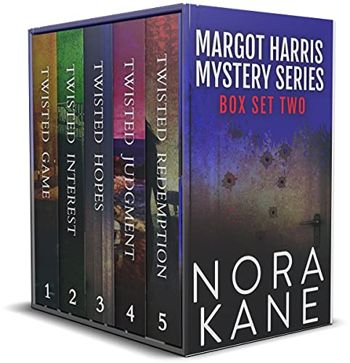 Margot Harris Mystery Series : Box Set 2 (Margot Harris Mystery Series Two - Twisted)
$0.99

(Please be sure to check book prices before buying as prices are subject to change)

---
A man and his mistress are brutally murdered in his own backyard and his wife becomes the main suspect.

Private Detective, Margot Harris is on the case to help Phoebe, the murdered man's wife, but her alibi is shaky at best.

Irrespective of whether Phoebe is innocent or not, the truth she is hiding is bound to put not only Margot's life in danger but also the people she cares about.

To make the matter worse, Killings don't stop there...

As bodies start piling up it is hard for Margot to decide who is innocent and whom to trust.

The case hits home for Margot when her boyfriend becomes the target of a drive-by shooting. Margot finds herself making an extremely hard decision about her ex-boyfriend, a disgraced cop kicked out of the police force.

Come along for a ride with Margot Harris, who is smart, strong, and quick-witted, on this Crime thriller with a touch of humor and a fast-paced storyline that will keep you guessing until the end.

Read More...
---
---
Leave a review about Margot Harris Mystery Series : Box Set 2 (Margot Harris Mystery Series Two - Twisted).
Login Now


© 2022 Crave Books. All rights reserved