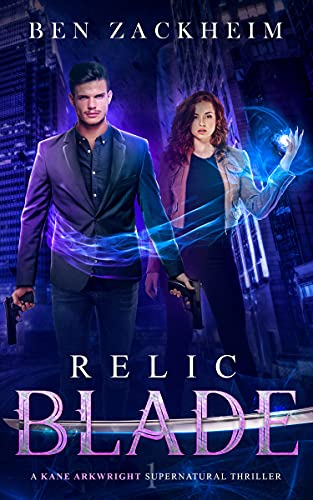 Relic: Blade (A Kane Arkwright Supernatural Thriller)
$3.99

(Please be sure to check book prices before buying as prices are subject to change)

---
Cocky vampires, mythical swords, steady Glocks and ghost hordes. Welcome to my world.
The vampires just woke up from a 1000-year slumber. Before nap-time they buried their fortunes around the world. Now they want their hidden treasures back.
It's my job to get to the relics first.
My partner Rebel and I need to track down and dig up hundreds of ancient items, and fast. They're worth, well, whatever comes after quadrillions. Most of them also happen to pack nasty supernatural powers.
Our latest target is a sword with the power to destroy the world. We just have to get past the grumpy blood suckers, the biting ghost hordes and a particularly nasty wizard.
But who am I kidding? Sneaking around won't work. Not when it comes to vampires. There's really only one way this can end.
On the edge of a blade.
Relic: Blade is the snark-filled first book in the Kane Arkwright Supernatural Thriller series, a set of urban fantasy novels. If you like mythical creatures, racy comedy, and brazen protagonists, then you'll love Ben Zackheim's thrilling adventure.
Buy
Relic: Blade

to start a hellishly good read today!

Kane Arkright Supernatural Thriller eBook categories:
Dark Fantasy
Supernatural Thriller
Witches & Wizards
Urban Fantasy Thriller
Supernatural Shifter
Angels & Demons
Science Fiction & Fantasy
Paranormal and Urban Romance
Supernatural Mystery and Suspense
Vampires
If you like Kevin Hearne, M.D. Massey, John P. Logsdon, Larry Correia, Al K. Line or Shayne Silvers, you will LOVE the first installment in the Kane Arkwright series by Ben Zackheim.
Click BUY NOW to travel the globe with supernatural treasure hunters who do it for the wealth, the glory and the undead body count.
"Zackheim's tomes are a never-ending rollercoaster ride...the kind you want to go forwards and backwards on, even after downing a pound of pizza and ice cream. Relentlessly entertaining and often hilarious..."
-- John P. Logsdon, author of the Paranormal Police Department series.
Read More...
---
---