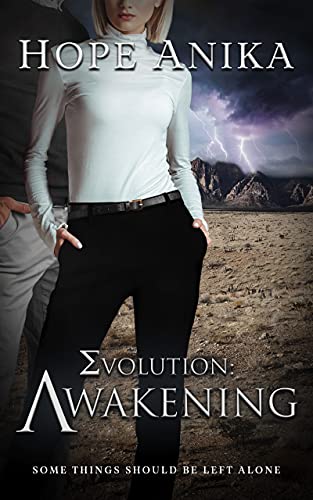 Evolution: Awakening (Book One of The Evolution Series): A Paranormal Romantic Suspense Novel
$4.99

(Please be sure to check book prices before buying as prices are subject to change)

---
Book One of The Evolution Series
"A show of good faith would go a long way."
His hands tightened on the chair. "What do you want?"
"The truth."
He stared down at her. "What truth?"
"Any truth."
Truth. Like opening a vein and inviting her in.
◆◆◆
When Ash Kyndal inherits her Uncle Charlie's Private Investigation firm, she wants nothing more than an out. Because how could anyone think putting her in charge of anything is a good idea?
But Charlie saved her once, and Ash owes him. Big time. So in spite of her reluctance—and the mysterious, taciturn Russian who's abruptly materialized on her doorstep, intent on repaying a debt to a dead man—Ash dives in.
Because seriously. How hard can it be?
Two missing clients, half a dozen men in black, and one crazy, utopian conspiracy designed to alter the very fabric of humanity later, Ash has her answer: crazy hard. And now that she's found herself on the front lines of an unexpected, vicious battle over the fate of the human race, she has a choice to make: stay and fight, or run like hell. Because the clock is ticking.
And war is coming.
A suspenseful paranormal romance series with captivating characters you won't forget.
★★★★★
"A suspenseful tale I could NOT put down."
★★★★★
"Stayed up too late reading this! Can't wait for the rest!"
★★★★★
"Incredible world building."
Read More...
---
---
Leave a review about Evolution: Awakening (Book One of The Evolution Series): A Paranormal Romantic Suspense Novel.
Login Now

© 2022 CraveBooks. All rights reserved