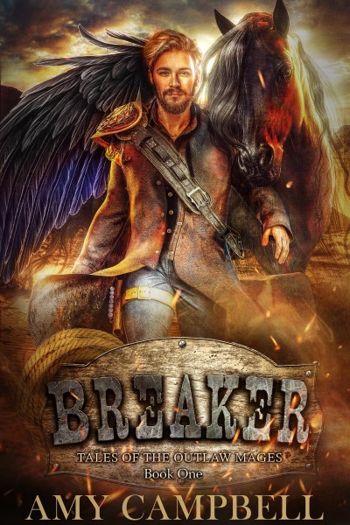 Breaker
By Amy Campbell
$4.99
(Please be sure to check book prices before buying as prices are subject to change)
Walking Disaster. Ruiner. Spook. Sorcerer. The reason we can't have nice things.
The citizens in the town of Bristle have called Blaise every name in the book. Born a Breaker, his unbridled magic wreaks havoc with a touch. As his peers land apprenticeships, Blaise faces the reality that no one wants a mage who destroys everything around him. When enemy soldiers storm the town hunting for spellcasters, he has no choice but to escape and rush headlong into the unknown.
A chance encounter with a pegasus sets Blaise on the path to a new life. Despite the machinations of a surly gunslinger, he finds a place to belong in the hardscrabble world of the outlaw mages.
But even an outlaw mage can't outrun his past, and Blaise's returns with a vengeance, threatening his chosen family. Can Blaise find the grit to harness his volatile magic into a saving grace, or will his most dangerous challenge be his last? ​
A gritty yet uplifting fantasy set in an Old West-inspired atmosphere featuring found family, unbreakable bonds, and men and women who are unapologetically true to themselves.
Digital Books







ASIN:
B0924TC2BB
ISBN:
978-1736141809
Book Length: Long Novel – 320-650 Pages