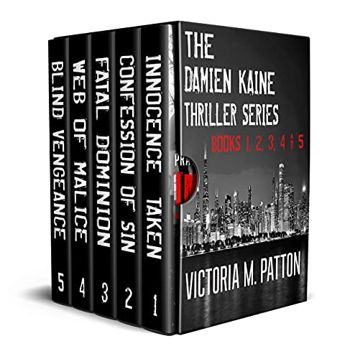 Damien Kaine Thriller Series Books 1-5
$9.99

(Please be sure to check book prices before buying as prices are subject to change)

---
Dark edgy stories, not for the faint of heart. No cozy mysteries here. If you like gritty realism, read the Damien Kaine series.
INNOCENCE TAKEN - Bk 1
Two dead girls, another one missing, and a secret that will rip a tight-knit community apart.
As Lt. Damien Kaine searches for a sadistic killer, a disturbing pattern emerges. The more he digs into a community's history, the more missing girls he finds.
Tensions rise with the abduction of another girl. Damien is in a race against time to save her. But the case is about to take a frightful turn. What they uncover will not only rock them to their core, it will haunt them forever.
CONFESSION OF SIN - Bk 2
A brutal killer with a grudge against the Catholic Church begs the question, can God really protect the flock?
After the murders of several priests, evidence points to someone with a grudge. Not just against the Church, but the head of the Church.
When the killer kidnaps Bishop Cantor, Damien fears he may be too late. In a race against the clock to save the bishop, he does what it takes to stop a sadistic killer.

Making choices that go against protocol have an unintended outcome. Placing Damien in a situation with deadly consequences.
FATAL DOMINION - Bk 3
Lies, secrets, and murder. All the makings of a good political race.
The brutal murder of Glen Rossdale thrusts Lt. Damien Kaine into Illinois politics pitting him against one of the most powerful families in the city. The Lockharts are in a race for Governor, and Damien's investigation is getting in the way.
With the body count rising, and not sure whom he can trust, Damien must rely on his partner, Joe Hagan.
As they get closer to the real meaning behind the gruesome string of murders, a new threat emerges. A familiar killer from Damien's past who will do whatever it takes to remove Damien from the case, permanently.
WEB OF MALICE - Bk 4
The past doesn't always stay in the past. Sometimes it comes back with a vengeance.
A silent killer from the past, hellbent on revenge, is back in Chicago. Forcing Damien to put his career on the line to end this killer's reign of terror. Keeping secrets from his detectives and family, Damien breaks more laws than he can count. Unknowingly placing those he loves in danger.
When he realizes that Dillon's life hangs in the balance, the choice is easy. He will risk everything to save her. But Damien's choices weave a web of danger that he never expected. His actions may cost him more than his job or the woman he loves. It may cost him his life.
BLIND VENGEANCE - Bk 5
How far would you go to get justice for someone you love? Would you kill for them?
The murders of a millionaire and a stripper seem unrelated until Lt. Damien Kaine finds a connection to Sunshine Valley orphanage.
As the investigation expands, it points to a heinous and sinister reason behind the brutal killings. This case has far-reaching political connections, making Damien question why his Captain reinstated him weeks before his suspension was over.
If you are a fan of CSI, Criminal Minds, or SVU, then this series is for you.
*This series contains adult themes, adult language, and graphic descriptions of crimes and crime scenes. It is intended for over 18.*
Read More...
---
---


© 2022 CraveBooks. All rights reserved