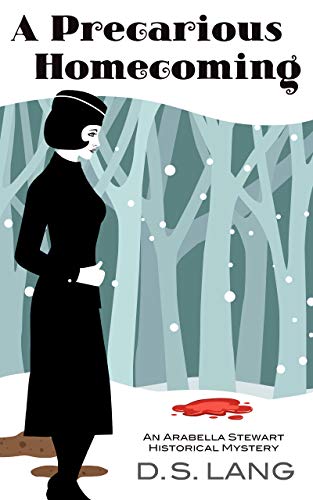 A Precarious Homecoming: An Arabella Stewart Historical Mystery
By D.S. Lang
$3.99
(Please be sure to check book prices before buying as prices are subject to change)
Arabella Stewart, grieving the losses of her parents and brother, returns home from serving as an Army Signal Corps operator in the Great War determined to save Ballantyne, her family resort. An impediment arises when she becomes involved in a murder investigation. Helping solve the crime is crucial, but Bella must work with Constable Jackson Hastings. Once part of her life, Jax turned his back on Bella after her brother, his best friend, died in the trenches. His cold attitude hasn't softened, but she can't let that stop her. Both her hometown and family resort, once popular tourist destinations, may not survive if the crime isn't solved quickly.
Jax, a war veteran, faces his own challenges. Wounded in body and spirit, his dreams shattered, he finds himself doing what he said he'd never do—follow in his father's footsteps as constable. When a crime wave hits town, culminating in murder, his competence is questioned. In a struggle to find the killer and save his job, Jax needs all the help he can get—but he doesn't want assistance from Bella. Not when he feels responsible for her brother's death. But more is at stake than his job. He can't stand by and let Moreley become a ghost town. Nor can he watch while Bella loses Ballantyne.
Working together is the only way to solve the crime and offer hope—to their community and for themselves. Will their efforts succeed, or will it be a precarious homecoming? 
---
Nook - BN
Apple Books
Kobo
Leave a review about A Precarious Homecoming: An Arabella Stewart Historical Mystery. Login Now