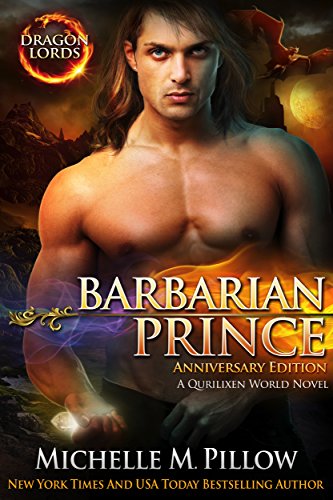 Barbarian Prince: A Qurilixen World Novel (Dragon Lords Anniversary Edition)
$4.99
(Please be sure to check book prices before buying as prices are subject to change)
With over 1,000 five-star Goodreads ratings: When reporter Morrigan takes an undercover assignment on a foreign planet, she ends up the accidental bride of a dragon shifter. Prince Ualan is determined to honor the marriage — but first, he'll have to tame the tempestuous beauty!
Breaking up is hard to do...
Going undercover at a mass wedding as a bartered bride, Morrigan Blake has every intention of getting off the barbaric alien planet just as soon as the ceremony over. Or, more correctly, just as soon as she captures footage of the mysterious princes rumored to be in attendance.
After a euphoric night, Morrigan discovers her ride left without her and an alien dragon shifter is claiming she's his wife. It's not exactly the story this reporter had in mind. And to make matters worse, the all-to-seductive alpha male refuses to take no for an answer.
Being cursed by the gods was never so frustrating...
Prince Ualan is prepared to follow dragon shifter tradition and marry the woman revealed to him during the marriage festival. When the stubborn, yet achingly sexy, Morrigan refuses to accept their shared fate, it is all he can do to keep from acting like the barbarian she accuses him of being.
A Qurilixen World Novel - Revised Expanded Anniversary Edition
Digital Books





Author Website
Audiobooks
Free


Chirp


Book Length: Long Novel – 320-650 Pages
More Books in this series from Michelle M. Pillow
Leave a review about Barbarian Prince: A Qurilixen World Novel (Dragon Lords Anniversary Edition). Login Now