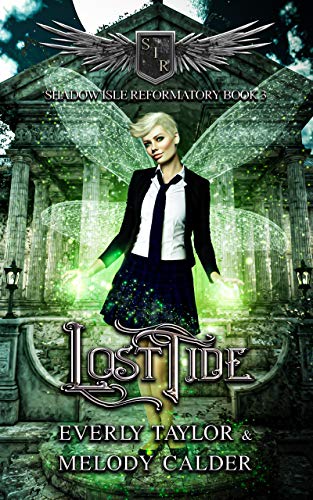 Lost Tide (Shadow Isle Reformatory Book 3) (Shadow Isle Reformatory (Reverse Harem Series))
By Everly Taylor and Melody Calder
$4.99
(Please be sure to check book prices before buying as prices are subject to change)
Trapped. Desperate. Hopeless. Shay must defy all odds to find herself before it's too late.
Shadow Isle Reformatory, the place I thought I had finally found my freedom, but instead it served as just another prison for me. Bigger for sure, but a cage all the same.

My whole life I had spent captured, drained of my dust by the worst of the worst and not able to use the very thing everyone wanted from me. I thought staying here would be different. I believed the headmaster when he said they would teach me everything I needed to know about being a pixie. I was wrong, but I made my choice and now I had to face the outcome.

Thankfully, I wasn't left to fend for myself. Frost assigned the Loren boys to keep the dust lickers away, but it also made it impossible to make friends, let alone find love. Isaac hated the inconvenience and just waned to be rid of me. His disdain for me only pushed me to train harder to learn what I had missed out on my whole life so he could be free of me. His brothers, Blake and Zach, are more than friendly and have grown on me, but I already had my heart broken once by a selfish pirate and I didn't want that to happen again.

Imagine my surprise when that very pirate showed up at Shadow Isle. Would he be the one to ruin everything I'd worked for, or would he be the one who pushed me to figure out how to break the chains holding me here?

◆ This book contains sexually explicit materials intended for mature audiences. It is a Reverse Harem, meaning 1 woman with multiple men.
Leave a review about Lost Tide (Shadow Isle Reformatory Book 3) (Shadow Isle Reformatory (Reverse Harem Series)). Login Now