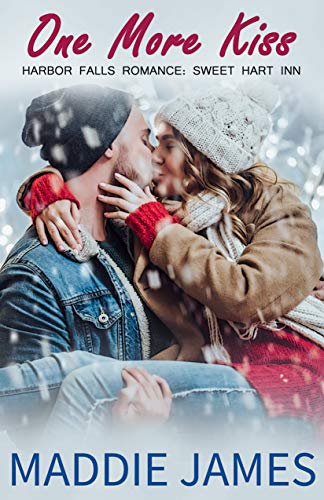 One More Kiss (A Harbor Falls Romance Book 14)
By Maddie James
$2.99
(Please be sure to check book prices before buying as prices are subject to change)
New Year's Eve is just around the corner and Emma Jo Baker has tried every trick in the book to land a date for the annual New Year's Eve Bash at Falls Lake Lodge. This year she doesn't want to go alone. She even tries setting up a kissing booth at the Harbor Falls Elementary Winter Carnival to meet a potential new date (under the guise of a school fundraiser, of course) until the school principal promptly shuts her booth down, deeming it inappropriate.

She would love to show him inappropriate!

After eight years of teaching and five more in his role of principal, Will Craig knows he has just about seen it all. Between the students, their parents, and occasionally his teachers, school life is never dull. When he spies the kissing booth in the corner of the gym during the winter carnival, he knows things are about to get interesting—and he's not at all surprised that Emma Baker is behind the supposed fund-raising effort. That woman has both intrigued and frustrated him for far too long.

It's about time he does something about it.

There is one thing Will knows for certain—if Emma is passing out kisses, candy or real ones, he intends to be the first, and last, in line to sample the goods. And he definitely doesn't want to sample them in front of the student body.

Digital Books

Book Length: Novella – 60-150 Pages
More Books in this series from Maddie James
Leave a review about One More Kiss (A Harbor Falls Romance Book 14). Login Now