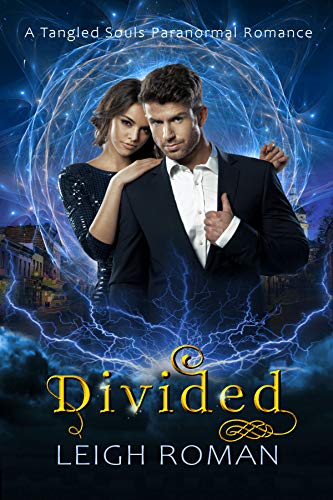 Divided: A Tangled Souls Paranormal Romance
By Leigh Roman
$4.99
(Please be sure to check book prices before buying as prices are subject to change)
Straddling
two worlds exacts a dangerous cost...

Jackson Delaney's unique ability to "pathwalk" nearly got him killed on the
battlefield. Haunted by a mysterious beauty who may not even be real, he
returns home determined to start over, and to leave all traces of the
supernatural behind.



But the magic isn't ready to leave him alone, and there is a price for every
gift.



With the revelation of a hidden past and the inheritance of a talisman so
powerful that his enemies are willing to kill to get it back, Jackson is
threatened by forces more deadly than any weapon he faced in combat. When the
mystery woman shows up again, he must discover whether she is a threat, a
distraction, or the key to his future.



In a race against the darkness that threatens them, can Maeve teach Jackson to
wield his new power in time, or will the struggle to survive destroy them both?
Digital Books





ASIN:
B088MM6B8P
ISBN:
979-8650635444
Book Length: Novella – 60-150 Pages
Leave a review about Divided: A Tangled Souls Paranormal Romance. Login Now