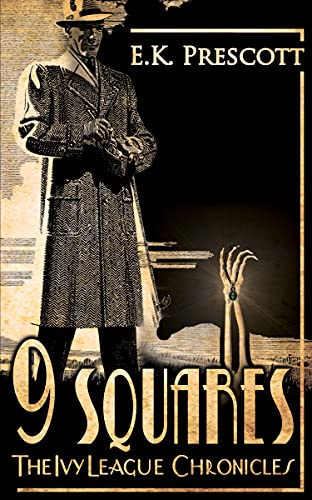 The Ivy League Chronicles: 9 Squares
By EK Prescott
$5.99
(Please be sure to check book prices before buying as prices are subject to change)
He'd given up solving murders, but old habits—much like skeletons on a beach—don't always stay buried.
By 1923, Scotland Yard's legendary Richard Wikki was done chasing cold cases: he'd traded murder scenes for a classroom at Yale and peaceful house by the sea. But when an aspiring journalist brings him a mysterious amulet she snatched from a crime-scene, her scoop of a lifetime drags Wikki into a conspiracy he can't escape.
Wikki—unwilling to turn the would-be reporter in for stealing evidence, but knowing it may be a vital clue in the case—agrees to assist her in unraveling the murder. Together they descend into a world of occult and secrecy, racing against shadowy forces who will stop at nothing to preserve the amulet's secrets. Uncertain who to trust, their best chance of survival is to unmask the secret society whose machinations reach to the very roots of American power.
9 Squares is book one in The Ivy League Chronicles. If you love history, intrigue, and the roaring twenties, this is the book for you. Buy 9 Squares and jump into the adventure today!
Digital Books

Book Length: Novel – 150-320 Pages
Leave a review about The Ivy League Chronicles: 9 Squares. Login Now