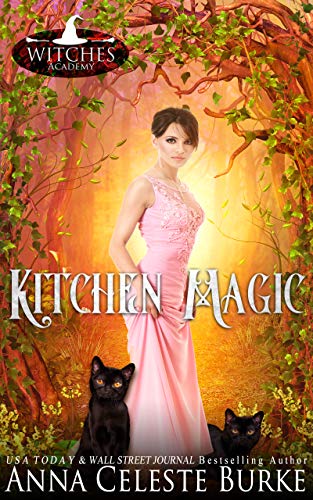 Kitchen Magic (Muriel's Cozy Magical Mysteries Book 1)
$4.99
(Please be sure to check book prices before buying as prices are subject to change)
Muriel Bright, America's latest foodie channel sweetheart, is a real charmer who's always discovering new uses for her magic outside the kitchen.
Muriel has plenty of experience using her skills as a healer, cooking up comfort and well-being one delicious treat at a time. When there's a murder behind the scenes at her top-rated cooking show, Muriel has no choice but to draw on her other extraordinary talents. As Muriel takes up sleuthing, she finds that her abilities are quickly put to the test. Despite what the detective assigned to the case may believe, this is no ordinary murder. Powerful forces are at work, and Muriel is determined to oppose them.
As a graduate of the Witches Academy, Muriel is a force to be reckoned with, and it's her calling to keep the darkness at bay. After getting to know the attractive detective better, Muriel would also like to keep him alive. To do that, Muriel gives a whole new meaning to the use of smoke and mirrors as she relies on them to deceive some and reveal the truth to others. Can she solve the mystery and stop the killing without tipping her hand to the police?
Grab your copy of Muriel Bright's first bewitching adventure by USA Today & Wall Street Journal bestselling author Anna Celeste Burke.
Recipes included.
Free to read with Kindle Unlimited.

Digital Books

Book Length: Novel – 150-320 Pages
More Books in this series from Anna Celeste Burke
Leave a review about Kitchen Magic (Muriel's Cozy Magical Mysteries Book 1). Login Now