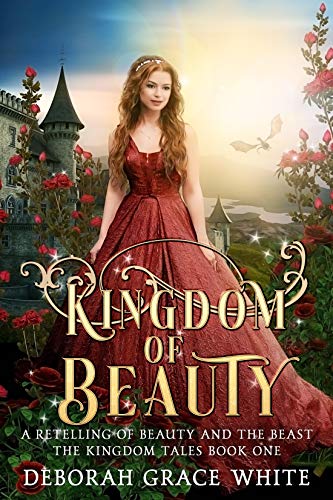 Kingdom of Beauty: A Retelling of Beauty and the Beast (The Kingdom Tales Book 1)
By Deborah Grace White
Free

$3.99

(Please be sure to check book prices before buying as prices are subject to change)

---
Peasant girls don't mingle with dragons, princes, and beastly curses…or so Felicity thought
After a lifetime with a grief-stricken father and a self-absorbed brother, Felicity isn't daunted by sacrifice. But when protecting her father means falling afoul of the curse that has swallowed the Summer Castle, and Prince Justin along with it, her own safety is not all that's at stake. The prince's monstrous form is the least of her concerns—the whole castle has been trapped by his pride, and his absence from the capital is driving the kingdom to ruin.
Justin was born to be a king, not a beast. Between the inhuman coldness he learned from his father, the humiliation of his cursed form, and his powerlessness against his hidden enemies back in the capital, laughter is the last thing on his mind. But even though she's a prisoner, nothing seems to dampen the intruder's maddening cheerfulness. Justin has to break his curse, and he needs someone like Felicity to do it. But as she begins to thaw the ice around his heart, he discovers her past is not what it seems.
With time running out, not just for the castle's inhabitants, but for the kingdom of Albury, they will need more than the help of a dragon to break the curse and prevent disaster before it's too late. But for all Felicity's warmth and laughter, even she could never look at Justin and like what she sees.
Could she?
Kingdom of Beauty is the first installment in The Kingdom Tales, a series of interconnected standalone novels set on the continent of Solstice, where dragons do their own thing, enchanters run amok, and happily ever afters require some chasing. If you enjoy strong heroines, clean romance, and fantasy worlds with a dash of intrigue, discover the world of The Kingdom Tales today.
Read More...
---
---
Leave a review about Kingdom of Beauty: A Retelling of Beauty and the Beast (The Kingdom Tales Book 1).
Login Now

© 2022 CraveBooks. All rights reserved