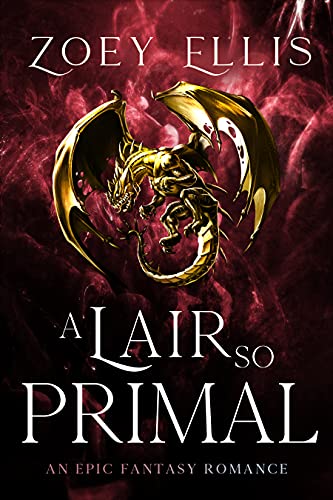 A Lair So Primal
By Zoey Ellis
$4.99
(Please be sure to check book prices before buying as prices are subject to change)
From a dark, magic-ravaged world comes an enthralling new fantasy romance series. Five brothers, last of an ancient Alpha bloodline, each bound by fire and blood to their majestic dragons.

She was saved by a dragon lord. And now he thinks he owns her.

Rescued as a baby by Tyomar, a powerful alpha bonded to a fierce dragon, Oshali was raised in a secluded sanctum. Historic tales of adventure and epic love captivate her, and she's convinced there is a breathtaking world beyond the sanctum's walls.

Twenty-five years later, she is now the liaison between the sanctum and Tyomar's notorious clan… and his visits are equally rousing and nerve-racking. The rules of the sanctum forbid him from seeing her face, but she is in awe of his intense good-looks and charm, even though she knows he still sees her as a child.

When Oshali accepts an assignment to travel across dangerous war-torn lands without her veil, Tyomar is furious. His overbearing protection reveals a fierce, dark possession.

Insatiable fire ignites between them.

And the passionate tension erupts into something deliciously carnal.

Yet Oshali knows Tyomar is a threat to her heart and her freedom. He refuses to leave her side, and she refuses to tolerate his controlling interference.

When a shocking revelation about her heritage exposes a deception, Oshali must choose where her loyalties lie, knowing Tyomar won't easily relinquish what he has decided is his.

A LAIR SO LOYAL is the second book in The Last Dragorai, a steamy fantasy romance series. This series can be read as standalones but will be better enjoyed if read in order. Includes romance a HEA.

Digital Books





Book Length: Novel – 150-320 Pages
Leave a review about A Lair So Primal. Login Now