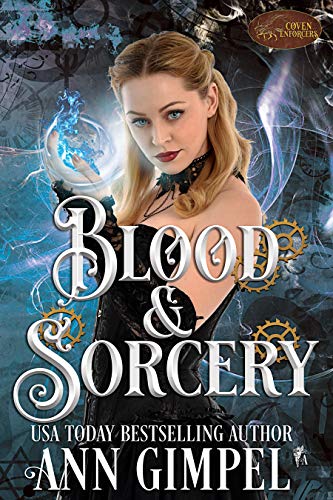 Blood and Sorcery: Paranormal Romance--With a Steampunk Edge (Coven Enforcers Book 2)
By Ann Gimpel
$3.99
(Please be sure to check book prices before buying as prices are subject to change)
Dark, Dangerous, Magical Men Who Live to Annihilate Evil

Joshua committed his life to fighting Black Magick. Not sure whom he hates worse, dark sorcerers or the clerics who tortured his family, he lives on the road with his horse and his magic, working as a Coven enforcer. Breana Giraud is the only woman he's ever loved, but she's married to someone else.

Breana's husband sold his soul to the devil. Along the way, he corrupted their daughter. Breana could have turned him in to Coven justice without a second thought, but she couldn't bring herself to implicate her child. Still reeling from her daughter's death at the hands of demons, and grateful her husband met the vicious end he deserved, she feels broken, damaged.

Joshua tries to hold back, give Breana room to mourn her losses, but if he has his way, she'll become his wife. With Don dead, and the path to his heart's true love finally clear, he'll do anything he can to make her his. Even if it means fighting his way past the dark mages' leader, who wants her for his own.

Digital Books





Book Length: Novel – 150-320 Pages
More Books in this series from Ann Gimpel
Leave a review about Blood and Sorcery: Paranormal Romance--With a Steampunk Edge (Coven Enforcers Book 2). Login Now