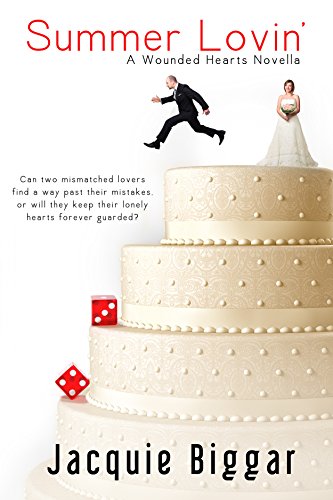 Summer Lovin': Wounded Hearts- Book 5
$2.99
(Please be sure to check book prices before buying as prices are subject to change)
Mitch Taylor and Rebecca Sorenson share a secret.

Rebecca's job as secretary of Cascade Elementary, the same school she attended as a child, is rewarding. She has a great group of friends, many of whom are married now. And if sometimes she wished it were her up there in that sparkling white dress…
Except, wait—she did get to wear bridal white. Granted, it was a slinky party dress and the justice of the peace was Elvis in a gold lame jacket, but still, the deed was done.
She'd tied the knot.
Mitch Taylor doesn't do regrets. It would be a waste of energy bemoaning the mistakes he'd made in his life. The end of his promising football career taught him nothing in life was a guarantee.
Like love.
What were the chances two people from the same po-dunk town in Washington would end up together in a nightclub in Las Vegas? A few too many drinks later, a hasty ceremony performed by the king of rock 'n' roll, and they'd been hitched. The night that followed lived on in his dreams, but when he'd woken the next morning she was gone.
Can these two mismatched lovers find a way past their mistakes, or will they keep their lonely hearts forever guarded?

Digital Books

Book Length: Novella – 60-150 Pages
More Books in this series from Jacquie Biggar
Leave a review about Summer Lovin': Wounded Hearts- Book 5. Login Now