Honor Bound: Military Romance (GenTech Rebellion Book 2)
Honor Bound: Military Romance (GenTech Rebellion Book 2)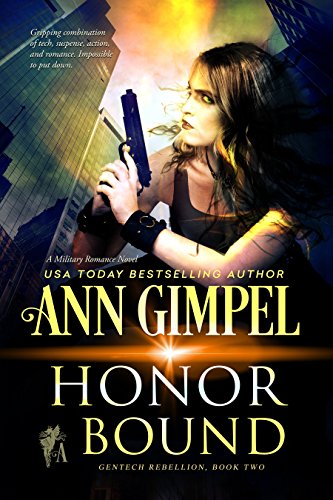 Honor Bound: Military Romance (GenTech Rebellion Book 2)
$2.99

(Please be sure to check book prices before buying as prices are subject to change)

---
Honor takes a huge chance and flees her compound one wintry night. A genetically altered woman, she has no memories from before her kin staged a rebellion seven years before. Because of her enhanced physiology, she finds a home working for the CIA alongside four other women just like her. There are still plenty of rules, but they're different, and she's figuring out how to blend in.

Milton Reins burns through women and marriages. After the third one implodes, he swears off hunting for a replacement. Running the CIA is a more than fulltime job. There's no time for anything else in his life, which is fine until Honor comes along. Training in the gym throws their bodies together, and makes him remember the feel of a woman in his arms. Milton aches for her, but she's a freak, the CIA term for test tube humans designed by scientists.

Honor wants Milton with every bone in her body, but it's a terrible idea, especially after she delves into his head and sees his ambivalence toward her kind. Need drives them together, but their differences create roadblocks every step of the way. Fueled by anger and fear, she shuts him out. So what if the sex was great, she's done.

Or is she?

Series Backstory:
Sometime between the interminable wars in the Middle East and 9/11, the United States moved forward breeding a race of super humans. Clandestine labs formed, armed with eager scientists who'd always yearned to manipulate human DNA. At first the clones looked promising, growing to fighting size in as little as a dozen years, but V1 had design flaws.

Seven years ago, a rogue group turned on their creators, blew up the lab, and hit all the other breeding farms, freeing whomever they could find. In the intervening time, they've retreated to hidden compounds and created a society run by men. Women are kept on a tight leash because the men fear if they discover their innate power, they'd launch their own rebellion.

Read More...
---
---

© 2022 CraveBooks. All rights reserved