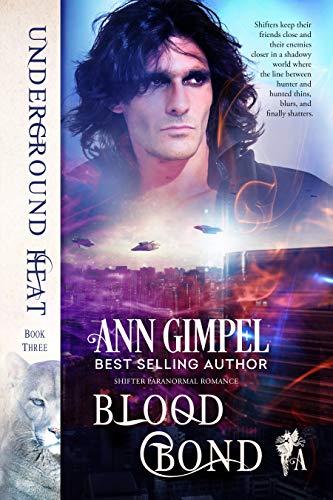 Blood Bond: Shifter Paranormal Romance (Underground Heat Book 3)
By Ann Gimpel
$2.99
(Please be sure to check book prices before buying as prices are subject to change)
Shifters keep their friends close and their enemies closer in a shadowy world where the line between hunter and hunted thins, blurs, and finally shatters

Author's Note: Blood Bond is book three in the Underground Heat Trilogy. All three novels are full length shifter romances with happy-ever-after endings!

You can buy the books individually, or in the boxed set titled Underground Heat.

Head of the shifter underground's security force, Johannes has his hands full. When Max, the underground's leader, is almost killed by sniper fire, Johannes breaks a cardinal rule to save his friend and makes a discovery about himself that changes everything.

Daria's been a healer in one capacity or another for hundreds of years, but wholesale slaughter aimed at wiping out her kin is something new. Called to the governor's mansion after Max gets shot, she finds him wallowing in a river of his own blood. By rights he should be dead. She questions Johannes, but he remains stubbornly silent—after telling her an outright lie.

If Johannes wasn't so knockout gorgeous, and she wasn't so wiped out, Daria would've left after treating Max. Instead, Johannes talks her into staying, then orders her to work for the underground. As head of security, it's his right to commandeer personnel. Daria is torn. Johannes is the most compelling man she's ever met, but he's also arrogant. Compounding the problem, her cat thinks he's their mate. After he runs roughshod over her, she doesn't care about anything except getting as far away from him as she can, but escape isn't possible.

A series of lethal attacks throw Daria into Johannes's path—and keep her there. He's desperately attracted to her, but anything beyond sex with any woman isn't part of his life plan. His cat says she's their mate, but it doesn't alter Johannes's staunch refusal to consider anything that might turn into love. He has his reasons. They've served him well, and he sees no reason to change them now.

Digital Books





Book Length: Novel – 150-320 Pages
More Books in this series from Ann Gimpel
Leave a review about Blood Bond: Shifter Paranormal Romance (Underground Heat Book 3). Login Now