Gemstone: A Zodiac Shifters Paranormal Romance: Gemini (Wylde Magick Book 1)
Gemstone: A Zodiac Shifters Paranormal Romance: Gemini (Wylde Magick Book 1)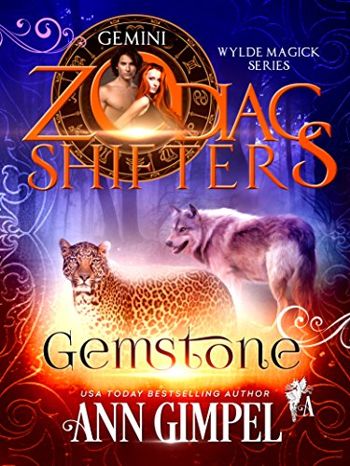 Gemstone: A Zodiac Shifters Paranormal Romance: Gemini (Wylde Magick Book 1)
$2.99

(Please be sure to check book prices before buying as prices are subject to change)

---
Release Date 6/11/2018
A hunky jaguar shifter + a smart, savvy wolf = smoking hot chemistry

Niall's nothing if not charming with his Irish brogue and dashing good looks. Jaguar shifter and player to the core, he's a love 'em and leave 'em type. His job as a paramedic keeps him busy and offers under-the-table opportunities to splash a wee bit of magic around.

In a world where magic is all but invisible, Sarai and her family fly beneath the radar living on a small ranch outside Denver. She only takes her wolf form on the darkest nights when discovery is unlikely. Captured by a vampire consortium hellbent on world domination, she watches with horror as they siphon her power, diverting it to kill humans for sport.

An unnatural fog causes a ten-car pileup. Niall nearly chokes on the thick, malevolent power hanging around the accident site. Anger running just below boiling point, he takes his jaguar form and follows a scent track, making a discovery that changes everything. For once, he curses his curiosity and wishes he'd left well enough alone. Vampires are rising. Fueled by shifter magic, their evil threatens not just him but magic's very existence.

Read More...
---
---
Leave a review about Gemstone: A Zodiac Shifters Paranormal Romance: Gemini (Wylde Magick Book 1).
Login Now

© 2022 CraveBooks. All rights reserved