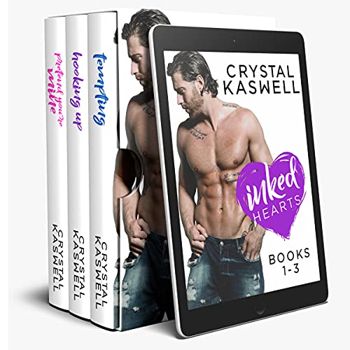 Inked Hearts 1-3
Over 1,000 pages of brooding bad boys. Start your binge read now!

The men of tattoo shop Inked Hearts are brooding, bossy, and impossible to resist!

Dive into this addicting series and see why readers say "Crystal Kaswell is the queen of broken bad boys."

Tempting
He's my best friend's brother. He's off limits. But when I find the brooding tattoo artist's sketchbook full of dirty drawings--drawings of me--I can't resist.

Hooking Up
Sweet, booksmart grad student Iris and I have a friends with benefits arrangement with three simple rules. All fun. No strings. No falling in love. But then I've never been very good at following rules.

Pretend You're Mine
I'm pretending I'm in love with my best friend. What could possibly go wrong?
This romance collection contains the first three books on the Inked Hearts series.

Read More...
---
---