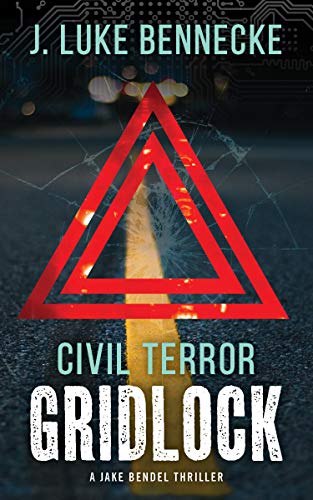 $0.99

$3.99

(Please be sure to check book prices before buying as prices are subject to change)

---
"A cyber-tale rooted in reality. Civil Terror: Gridlock is a thriller with surprisingly deep implications." - BookTrib
Self-driving cars have arrived. So have the terrorists.
Civil engineer Jake Bendel and a team of experts have designed and implemented a roadway system for self-driving cars, negating thousands of traffic-related deaths each year and reducing commute times to minutes instead of hours. However, disaster strikes when a supposed glitch causes a deadly attack on a busy California freeway, and the FBI begins connecting dots to a larger terrorist conspiracy at play. Jake and a rogue FBI agent must race against the clock to stop a potentially fatal national attack that could claim the lives of millions of Americans in a matter of seconds.
A gripping tale from the first page to the last, this fast-paced thriller from a real-life traffic engineer will make you think twice about the looming autonomous vehicle revolution.
Read More...
---
ASIN: B07B8LK9XG
ISBN: 0965771520
---

© 2022 CraveBooks. All rights reserved