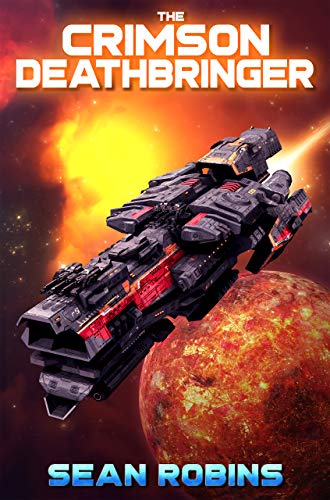 The Crimson Deathbringer
By Sean Robins
$0.99

(Please be sure to check book prices before buying as prices are subject to change)

---
When Earth gets embroiled in the middle of an intergalactic war, humanity's only hope for survival rests with a rag-tag team of unlikely heroes which includes an ace fighter pilot, a stuntwoman, a super-assassin, and an alien prankster.
Jim, a wise-cracking, OCD-suffering fighter pilot, is about to propose to his girlfriend when his friend Kurt surprises them by showing up at his house, wounded and covered in blood. This is just the beginning of Jim's woes because soon after his life is thrown into a galactic conflict that threatens the very existence of the human race.
Can our heroes save humanity from the wrath of a galaxy-conquering alien fleet?
The Crimson Deathbringer seamlessly blends breathtaking action sequences with mischievous humor. If you enjoy reading a well-written space opera saga, or if you are a Star Wars, Star Trek, or Stargate fan, this book, with its nerve-wracking space battles, memorable characters, formidable antagonist, and Game of Thrones style shocking twists, is written especially for you. Pick it up and see for yourself!
Praise for The Crimson Deathbringer:
The Crimson Deathbringer is a mix of funny and clever dialogues, action and adventure, with scenes that made me chuckle, bite my nails, and shed a tear or two. All while it kept me at the edge of my seat, trying to guess what would happen next. And no, most times I guessed wrong.
Jina Bazzar, the author of Heir of Ashes
The Crimson Deathbringer is the first novel from Sean Robins--and a great debut it is. It's chockablock full of action. You have dramatic alien-versus-human-versus alien encounters, exciting space battles, an insane race to save the world, some warm-hearted romance, and a lot of waggish humor (reminiscent of Douglas Adams.) If you can get this granite face to break a smile, you've accomplished something major and Sean has done just that--by infusing campy fun at the right times, in the right places.
Tyler Colins, the author of The Connecticut Corpse Caper
Read More...
---
---

© 2022 CraveBooks. All rights reserved