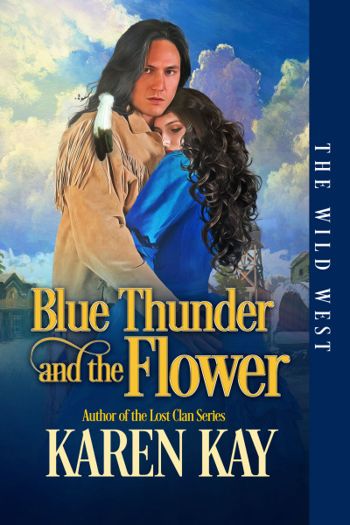 Blue Thunder and the Flower
By Karen Kay
$9.99
(Please be sure to check book prices before buying as prices are subject to change)

He rescued her from danger. Then she stole his heart.

Working as
a trick rider for Buffalo Bill's Wild West show, Blue Thunder of the
Lakota Nation joins forces with two Assiniboine warriors in their
mission to stop a hidden enemy who means to destroy the American Indian
people. As a child, he'd witnessed the massacre of his friends and
family, including the girl, Sweet Flower, whom he'd vowed to marry. The
loss has left him with a burning ache and a prejudice against the white
man. So how can he fall for a woman like Marci Fox?

Something
terrible happened to Marci when she was a child; something that keeps
her from remembering her early life. She jumps at the chance to travel
from England to New York with her friends working with the Wild West
show. But a last minute hitch means the only way to get there is to
pretend she's married to Blue Thunder. Her attraction to him is deep,
yet something stands in the way of true happiness—the ghosts from his
past and his commitment to a mission that could get him killed.

But
soon, Blue Thunder and his friends must discover who the true enemy is
and stop his evil plans before he can harm more of their people. Could
uncovering the treachery get Blue Thunder killed? And, even if he
survives the threat, can Blue Thunder and Marci overcome their past and
discover the sweet flower of true love?

Warning: A sensuous romance that might stir one's heart to look for, discover and ignite a soul-stirring, forever love.


Digital Books

Book Length: Novel – 150-320 Pages
Leave a review about Blue Thunder and the Flower. Login Now