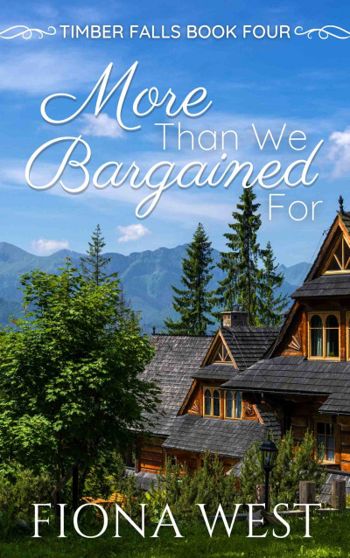 More Than We Bargained For
By Fiona West
$3.99
(Please be sure to check book prices before buying as prices are subject to change)
Wanted: renter for rural Oregon mountain lodge. Single mom divorcees named Starla preferred.
Starla Moore despises a mystery, and there's no bigger mystery than Sawyer Devereaux. He comes into the library on Thursdays like clockwork, but rarely talks to anyone else. Not that she despises him; after all, he's easy on the eyes, quick-witted, and that Southern accent makes her swoon. But in the midst of a divorce, her only romance is the bookish kind. Worst of all, crashing with her bestie won't be an option soon, especially since her final fling with her husband had one very specific unintended consequence...
Regaining consciousness with his head in the cute librarian's lap was a rude awakening; Sawyer thought his health problems were under control. Without a driver's license, there's no way he can live in his little cabin alone...When he finds out Starla's struggling financially, he proposes a trade: his housing for her driving. Surely he can keep his feelings a secret for a few months...
He's given up on his dreams; she's just figuring hers out. When the rumors start, will it push these two misfits together...or drive one of them out of Timber Falls for good?
More Than We Bargained For is the fourth book in the Timber Falls small-town romance series. It can be enjoyed as a standalone. If you like town meeting rants, neighborly concerns that become something more, and water fights that heat things up instead of cooling them down, buy this book now. This book contains no open-door sex scenes, no cheating, and a happily ever after.
Digital Books

Book Length: Novel – 150-320 Pages
Leave a review about More Than We Bargained For. Login Now