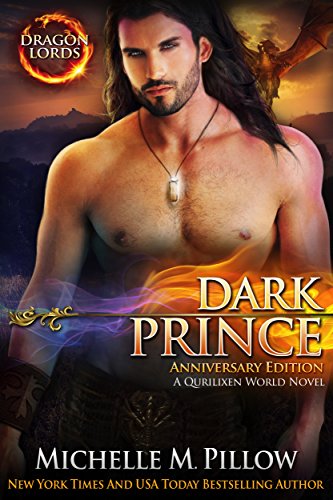 Dark Prince: A Qurilixen World Novel (Dragon Lords Anniversary Edition)
$4.99
(Please be sure to check book prices before buying as prices are subject to change)
Dragon Shapeshifter Sci Fi Paranormal Romance
The original Dragon Lords series' Anniversary Edition by NYT Bestselling Author, Michelle M. Pillow.
Out of the fire…
Intergalactic thief, Olena Leyton is one of the best space pirates to sail the high skies. Adventure is in her blood. When her crew is scattered in a run from the law and her spaceship explodes into a ball of flames, she is forced to find sanctuary on a bride procurement ship. She poses as a willing mate to one of the males on the primitive alien planet of Qurilixen to elude the bounty hunters pursuing her.
But, marriage isn't something this pirate takes seriously.
Into the flames…
Dragon-shifting Prince Yusef leads a simple life away from the royal palace. He knows from the first moment he sees his fiery temptress that he will possess her and make her his mate for all time. The prince soon learns that playing with fire will always leave a man burned.
With passions that surge as powerful as theirs, he is not willing to give up his bride without a fight.

About the Dragon Lords Series
The dragon-shifting alien princes have no problem with commitment. In one night, these alpha males will meet and choose their fated mates in a simplistic ceremony involving the removing of masks and the crushing of crystals. With few words spoken and the shortest, most bizarre courtship in history, they will bond to their women forever.

5 Stars! Romance Reviews Top Pick
5 Stars! "This is an exciting story. Ms. Pillow has written two very emotional, complicated and highly loveable characters... A well-written book that flows along, this reviewer highly recommends it and feels that so far, this is the best one." - Love Romances
"Pillow crafts a spicy, spellbinding romance in the third installment of her Dragon Lords series. Set against a fantastic futuristic setting, the characters are engagingly realistic as they struggle against the pain of the past and the uncertainty of the present to find happiness." Jennifer R. Wells-Marani, RT BOOKreviews Magazine
A Qurilixen World Novel
Dragon Shapeshifter Paranormal, Science Fiction, Fantasy, Fated Mate, Alien Romance
Revised Expanded Anniversary Edition
Digital Books





Book Length: Long Novel – 320-650 Pages
More Books in this series from Michelle M. Pillow
Leave a review about Dark Prince: A Qurilixen World Novel (Dragon Lords Anniversary Edition). Login Now