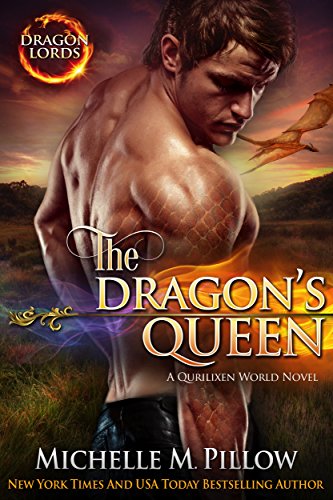 The Dragon's Queen: A Qurilixen World Novel (Dragon Lords Book 9)
$4.99

(Please be sure to check book prices before buying as prices are subject to change)

---
Mede is a strong-willed dragon shifter who refuses to marry. Prince Llyr wants her for himself — but with enemies gathering and time running out, can he persuade her to become his queen?
The original Dragon Lords series by NYT Bestselling Author, Michelle M. Pillow.
Mede knows three things for a fact:
As the only female dragon-shifter of her people, she is special.
She can kick the backside of any man.
And she absolutely doesn't want to marry.
Mede has spent a lifetime trying to prove she's as strong as any male warrior. Unfortunately, being the special, rare creature she is, she's been claimed as the future bride to nearly three dozen dragons—each one confident that when they come for her hand in marriage, fate will choose them. When the men aren't bragging about how they're going to marry her, they're acting like she's a delicate rare flower in need of their protection.
But Mede is far from a shrinking solarflower.

Prince Llyr knows four things for a fact:
He is the future king of the dragon shifters.
He must act honorably in all ways.
He absolutely, positively is meant to marry Lady Mede.
And she is dead set against marriage.
Llyr's fate rests in the hands of a woman determined not to have any man. With a new threat emerging amongst their cat-shifting neighbors, a threat whose eyes are focused firmly on Mede, time may be running out. It is up to the prince to convince her to be his dragon queen.

A prequel story.

Praise For The Dragon's Queen
"The Dragon's Queen is one Kick-Butt romantic story of the woman everyone considers a rare and precious gem and the one man who sees beyond the 'fairy tale' to the hardcore goddess she really is... I enjoyed this book from start to finish, watching both Llyr and Mede change and move towards each other as who they are meant to be." Kris, Insightful Mind Reviews

5 Stars! "A book you can't put down!" Theresa Menendez, BookBub

5 Stars! "A captivating read, great characters and plot" Sue, Sue B. Reviews


A Qurilixen World Novel
Dragon Shapeshifter Paranormal, Science Fiction, Fantasy, Alien Romance
Read More...
---
---


© 2022 Crave Books. All rights reserved