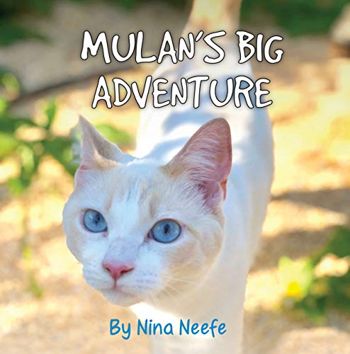 Mulan's Big Adventure: The True Story of a Lost Kitty (Nina's Cat Tales)
By Nina Neefe
$2.99
(Please be sure to check book prices before buying as prices are subject to change)
an exciting adventure, but soon discovers that she is lost and misses her family. How will she get home? Enjoy this heartwarming TRUE story and follow the Adventures of Simon & Mulan, two adorable Siamese shelter kitties as they explore their new home and world in Nina's Cat Tales. Mulan's journey is told with rhyming verse and adorable, real-life photos enhance your child's imagination in sharing Mulan's exploration into the world. Adorable Wonder & Suspense for children ages 4-12.
★ See the FREE Animated 8' Short Film called Mulan's Big Adventure on YouTube
★ Visit Nina's Cat Tales website to learn about Book Readings and personally autographed, gift-wrapped book options.
Leave a review about Mulan's Big Adventure: The True Story of a Lost Kitty (Nina's Cat Tales). Login Now