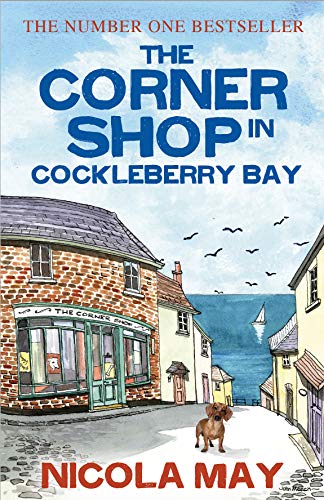 The Corner Shop in Cockleberry Bay: A tale of love hope mystery and belonging
By Nicola May
Free

$2.99

(Please be sure to check book prices before buying as prices are subject to change)

---
MILLY JOHNSON SAYS: 'A SUNNY, FUNNY, LOVELY STORY GUARANTEED TO WARM THE COCKLES OF YOUR HEART'
"This book is so addictive that you will literally lose 3 hours of your life, and you won't care!" Cara's Book Boudoir
"It's one of my favourite books of this year so far." That Thing She Reads
"Incredibly well written, this book has completely got under my skin, highly recommended." Top 500 reviewer
"I found this to be an enjoyable, fun, edgy and not your normal light and fluffy chick lit read - more please!!!" Goodreads

Praise for Nicola May's other books
'This book will twang your funny bone & your heartstrings' – Milly Johnson
'A fun and flighty read' the Sun
'A funny and fast-paced romp – thoroughly enjoyable!' WOMAN Magazine
'One of those books that I can't stop thinking about way after I've read it! Kim The Bookworm


Rosa Larkin is down on her luck in London, so when she inherits a near-derelict corner shop in a quaint Devon village, her first thought is to sell it for cash and sort out her life. But nothing is straightforward about this legacy. While the identity of her benefactor remains a mystery, he - or she - has left one important legal proviso: that the shop cannot be sold, only passed on to somebody who really deserves it.

Rosa makes up her mind to give it a go: to put everything she has into getting the shop up and running again in the small seaside community of Cockleberry Bay. But can she do it all on her own? And if not, who will help her succeed - and who among the following will work secretly to see her fail?

There is a handsome rugby player, a sexy plumber, a charlatan reporter and a selection of meddling locals. Add in a hit and run incident and the disappearance of a valuable engraved necklace – and what you get is a journey of self-discovery and unpredictable events.

With surprising and heartfelt results, Rosa, accompanied at all times by her little sausage dog Hot, will slowly unravel the shadowy secrets of the inheritance, and also bring her own, long-hidden heritage into the light.

Read More...
---
---
Leave a review about The Corner Shop in Cockleberry Bay: A tale of love hope mystery and belonging.
Login Now

© 2022 CraveBooks. All rights reserved