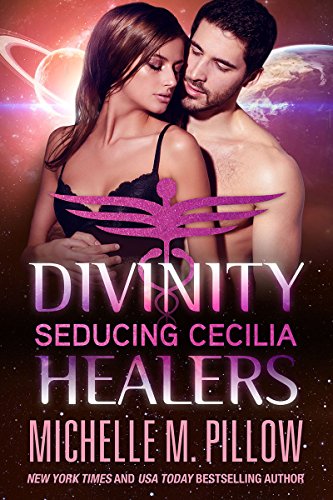 Seducing Cecilia (Divinity Healers Book 2)
$3.99
(Please be sure to check book prices before buying as prices are subject to change)
As things heat up, the clock is ticking, and the time for seduction is running out.
Alternate Reality Romance (parallel universe) from NYT & USAT Bestselling Author
In a world obsessed with medical advancement, Dr. Gerard Fauchet longs for something more. When he's assigned as the liaison to a dignitary from an parallel unierse, he never imagined she'd be so stunningly beautiful, or so damned frustrating. One second she's kissing him, the next she's pretending nothing is between them.
The passion is scorching, everything he ever dreamed of having with a woman. He'll make her admit she wants him—or die trying.
Dr. Cecilia Markos is keenly aware that she's been shoved through a portal to an alternate reality for one reason—to bring home medical advancements for the betterment of her people. Unfortunately, she only has two months to learn a world's complete medical knowledgebase. It's an impossible task made even more so by the distractingly handsome Gerard who she can't seem to keep her hands or her mind off of him.
As the clash heats up between Gerard and Cecilia, the clock is ticking, and the time for seduction is running out.
What readers are saying...
5 Stars! "Michelle Pillow is one of my best author's, when I buy her books I know I will be getting my moneys worth. They are entertaining, sizzling and spell checked."
5 Stars! "Thankfully you not only get a ton of story powered by a terrific storyline or two, but you will always have another book to lose yourself in."
5 Stars! "Can these two keep there hands off of one another to figure out how to work together...I love how Michelle carries over her stories and the characters. They are complex and well developed."
Alternate Reality, Parallel Universe, Science Fiction, Doctor Romance
Part of the Divinity Warriors Universe
Digital Books





Book Length: Novel – 150-320 Pages
More Books in this series from Michelle M. Pillow
Leave a review about Seducing Cecilia (Divinity Healers Book 2). Login Now