In The Stars: Cozy Mystery Series (Amber Reed Mystery Book 1)
In The Stars: Cozy Mystery Series (Amber Reed Mystery Book 1)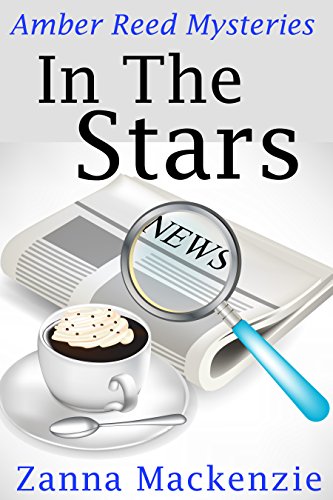 In The Stars: Cozy Mystery Series (Amber Reed Mystery Book 1)
By Zanna Mackenzie
$0.99

(Please be sure to check book prices before buying as prices are subject to change)

---
A desperate phone call. A murdered celebrity. A deadline to catch a killer and solve a crime...

Amber, a newspaper admin assistant in a sleepy small town, wishes her life could be more exciting.

Then, with one phone call, her world turns upside down.

Soon she's caught up in the middle of a high-stakes celebrity murder investigation and battling to convince handsome (and incredibly stubborn) special agent Charlie Huxton that she really can help him catch the killer.

Time is running out though, so this unlikely sleuthing duo needs to act fast if they stand any chance of cracking the case and catching the bad guy...

If you enjoy reading intriguing and humorous cozy mysteries about fun female sleuths then you'll love the 'addictive' Amber Reed series. Download In The Stars today!

"Addictive new series, approach only if you are willing to read into the early hours of the morning!!!" Chicks That Read Book Blog

"The book is witty and light, with non-stop action and plenty of romance. I love the way the characters play off of each other, especially the leads. I can't wait to find out what happens to Amber and Charlie next!" Caroline Fardig, author of the Lizzie Hart mysteries.

"I quickly warmed to the main protagonist, Amber, and leading man Charlie has a bit of a James Bond feel to him which I think numerous female readers will definitely enjoy!" Jody, A Spoonful of Happy Ending Book Blog.

"This is the opening salvo for a fun, new series which I enjoyed very much. Interesting characters with an intriguing "who done it" plot which holds you enthralled." Barbara, Amazon reader.

"I loved this book! I had to go & buy the next 3... Had to see what happens next. Can't wait for book 5 to come out! I got hooked fast." Maryanne, Amazon reader.

Read More...
---
---

© 2022 CraveBooks. All rights reserved