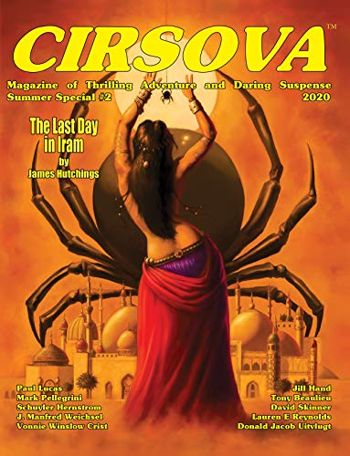 Cirsova Magazine of Thrilling Adventure and Daring Suspense: Summer Special #2 / 2020 (Cirsova Summer Special)
By P Alexander
$3.99
(Please be sure to check book prices before buying as prices are subject to change)
Just Don't Open the Door
By MARK PELLEGRINI
Sean lives next to a weird house with bricked-up windows and an overgrown yard... One day, he sees the strange man living next door leaving in a panicked hurry, offering one brusque warning!
The Greenery Has Come Again
By PAUL LUCAS
James's childhood home is no longer his own, and returning proves an uncanny experience as the mystery surrounding the giant tree his mother named Yggdrasil blooms like the greenwood itself!
Mission 21
By SCHUYLER HERNSTROM
Codename Joker: he's the best at what he does-wet works ops against the reptilian aliens that eat human flesh! Can he keep his perfect record when a bystander gets caught in the crossfire?!
Sail Safe
By VONNIE WINSLOW CRIST
At Port Crystal, the facility director's daughter is...not her daughter! Can Radko Urban get Sally Brogan, who was kidnapped as an embryo, off the station before they're both made?!
Shakespeare Among the Stars
By JILL HAND
Lured onto a space cruise by romantic letters from a handsome holo actor that turned out to be part of a marketing campaign, Kivrin has run out of money and is stuck working the waste tanks!
How I Spent My Summer Vacation
By TONY BEAULIEU
A young girl's parents die mysteriously while investigating a strange book: The All Story! When Paige Hamil finds her parents' notes and The All Story, Valvidian Corp agents aren't far behind!
Shallow Ripples
By LAUREN E REYNOLDS
Polluted yet picturesque, the streams and creeks near Andy and Joey's small town attract their fair share of partying teens despite the disturbing rumors and legends-and deaths!
Scent of the Yaka Aka Yo
By J. MANFRED WEICHSEL Three castaways find themselves on a mysterious
island inhabited almost entirely by women... and their strange king who condemns the men to death by the sinister Yaka Aka Yo!
The Fourth Gift
By DAVID SKINNER
Baltasar, one of Ulrik's many Menders, diligently performs his task of recreating the Solar System-until a mysterious anomaly forming around the Moon threatens the outcome of the Plan!
The Sarcomancer
By DONALD JACOB UITVLUGT
Zain, priest of the old gods, continues his trek across Leng in search of his brother and comes across a destitute village that has been deprived of its young by a mad flesh-crafting sorcerer!
The Last Day in Iram
By JAMES HUTCHINGS
You have had a vision that the city of Iram is doomed! The paranoid sultan is privy to the same portents, but refuses to allow any to leave the city-will you escape before the end comes?!
Digital Books

Book Length: Long Novel – 320-650 Pages
More Books in this series from P Alexander
Leave a review about Cirsova Magazine of Thrilling Adventure and Daring Suspense: Summer Special #2 / 2020 (Cirsova Summer Special). Login Now