Buying the Virgin - Box Set Three, The Virgin's Summer: An On-Going BDSM, Ménage, Erotic Romance (Buying the Virgin Box Set Book 3)
Buying the Virgin - Box Set Three, The Virgin's Summer: An On-Going BDSM, Ménage, Erotic Romance (Buying the Virgin Box Set Book 3)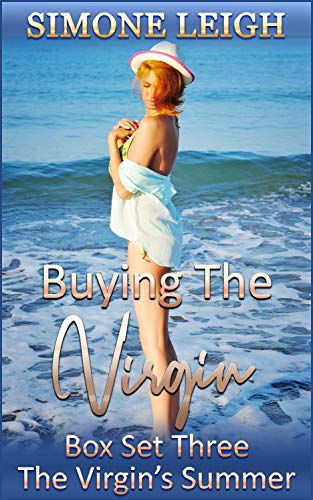 Buying the Virgin - Box Set Three, The Virgin's Summer: An On-Going BDSM, Ménage, Erotic Romance (Buying the Virgin Box Set Book 3)
$2.99

(Please be sure to check book prices before buying as prices are subject to change)

---
Buying the Virgin – Box Set Three – The Virgin's Summer
An Endless Summer....
Charlotte the (Ex) Virgin, her Master and her Lover, have the Summer ahead of them, but as time goes on, can they make their ménage-a trois work?
And as Charlotte's past comes to light, is there a price to pay? And who will pay it?
A Tale of BDSM, Ménage, Erotic Romance and Suspense
5 Stars: "My husband loves when I read these books as he gets to reap the benefits of their heat! This book goes way beyond my fantasies..." Rebecca Amazon.com
5 Stars: "This box set was incredibly good.
I love the whole premise of it. The love between the characters is beautiful. The BDSM factor only makes it better."
Donna
5 Stars: "BDSM in all it's naked glory" K Mayo Amazon.com
5 Stars: "This is the first book by this author I have read
but will not be the last. I loved this book. It was so good."
Lisa Picciano Amazon.com
5 Stars: I love this series.
It could definitely melt your Kindle or anything else near it. Loved the plot twists in this set. Truly not expecting them."
Judi McGuire Amazon.com
Read More...
---
---
Leave a review about Buying the Virgin - Box Set Three, The Virgin's Summer: An On-Going BDSM, Ménage, Erotic Romance (Buying the Virgin Box Set Book 3).
Login Now

© 2023 CraveBooks. All rights reserved