Mastering the Virgin Box Set Two: A BDSM Ménage Erotic Romance
Mastering the Virgin Box Set Two: A BDSM Ménage Erotic Romance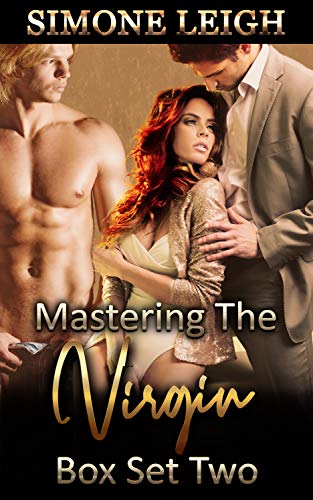 Mastering the Virgin Box Set Two: A BDSM Ménage Erotic Romance
$0.99

(Please be sure to check book prices before buying as prices are subject to change)

---
Once Friends. Now Rivals
James the Dom 'Bought a Virgin' at auction, then shared her with his friend of years, Michael.
However, both men have fallen for her.
Will their friendship survive the rivalry this causes?
A BDSM Ménage Erotic Romance
5 Stars: "Hot and Masterful! ...Simone Leigh not only delivers amazing erotic scenes that I have yet to see topped by another author in the genre, but she also takes the time to develop her characters. Michael and James don't come as a mere duo but we see how different their characters are and how they deal with their love for Charlotte... James is my favourite. Lots of other men on the scene, so I'm curious to see how and if any of these gain prominence in future volumes." Hungry Caterpillar: Amazon.com

5 Stars: "Take The Journey... You Won't Regret It." Julez76: Amazon.com
5 stars: "Enjoyed immensely. Couldn't put it down. A real page-turner. Would recommend to anybody." Customer
5 stars: "This box set is a fantastic continuation to the series. It's told by the 2 main male characters. It's a beautifully written love story between 3 people." Tamiroberts929
5 Stars: "Awesome writing. 10 stars." Christine Abee
5 stars: "One of the best BDSM romance booksets I've ever read. Amazingly written, complex, interesting, and not shallow like other similar books." Kathleen Bulfon
5 stars: "Wonderful stories! Amazing story that will make your head spin and the fires burn!" Laydee Taye
This Box Set contains the following previously published books:
Part Five – Rivals
Part Six – Lovers
Part Seven – Masters
Part Eight – Dominants
Total Approx 76,000 words
Read More...
---
Audiobooks
---
---

© 2022 CraveBooks. All rights reserved