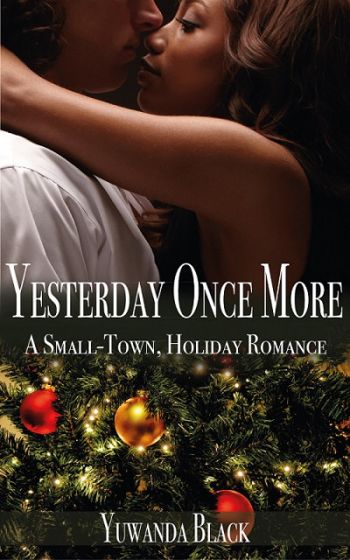 Yesterday Once More: A Small Town, Interracial, Holiday Romance
$3.99
(Please be sure to check book prices before buying as prices are subject to change)
PREVIEW

Secrets.

Passion.

Betrayal.

Before we were formally introduced, I almost bashed his head in with a baseball bat.

Raised to fight, determined to succeed, and suckled on the grist of ruthless determination, Lance Elliot had learned early in life that if you wanted something, you had to go after it.

Here in Pinewood, people help each other out. I remembered Lance's words from that day in his aunt's kitchen, when I'd almost bludgeoned him with a baseball bat. I smiled through her tears at the memory, wondering if that's all I'd ever have of him – bittersweet memories.

***

Lance Elliot

Disarmingly cocky with eyes that could make you forget your own name. And ... a heart of stone.

An unwanted child who'd only known the devotion of his dear Aunt Maggie, the only rules he lived by were his own. And then came the call.

"It's about your dad," Aunt Maggie said.

Lance stiffened. "What about him?"

"The doctors have given him only three months to live."

Lance inhaled sharply. Let the fucker die.

He was willing to let his father take a secret to his grave; a secret that would forever change his life -- if he cared to see the old man.

And for that, I would pay.

He would pay.

Our budding love would pay.

***

Mara Evans

Lance had a tightly leashed sense of control and fiery glare that made me weak in the knees. It excited and scared me at the same time.

How could he be so cold, yet ignite desires in me that burned hotter than the flames of hell? Maybe it was this very juxtaposition that pulled at me.

As I tried to heal from a painful past, he was the last thing I needed for my future. I should have run the minute he declared, "I may sound like a heartless bastard, but I wish he would hurry up and die."

His words were like bullets, piercing my flesh. If he could harbor such rage against his own flesh and blood, what was to prevent him from turning on me?

His fury reminded me of the last time I'd seen my ex.

***

I felt blood in the back of my throat, the warm stickiness of it covering my hand. "You hit me," I moaned.

This had to be a dream, I thought. As his right hand closed around my neck, I felt like I was going to pass out again. That's when I knew it was real. Too real.

"If you ever threaten to take my livelihood away from me again, I'll kill you. Do we understand each other?"

He laughed, a cackling sound that was pure evil.

I twisted my head from side to side.

"I thought you'd see it my way."

***

I shook my head to release thoughts of the past. Lance wasn't Steve. And I was already half way in love with him.

But could he fall in love with me? Was he looking for a relationship? There was so much I didn't know about him. Was I headed for heartbreak all over again?

Or, could I convince him to confront a past that would free him to unleash the love I felt when I was in his arms?

I wanted the promise of that love ... our Yesterday Once More.
Digital Books





Book Length: Novella – 60-150 Pages
Leave a review about Yesterday Once More: A Small Town, Interracial, Holiday Romance. Login Now