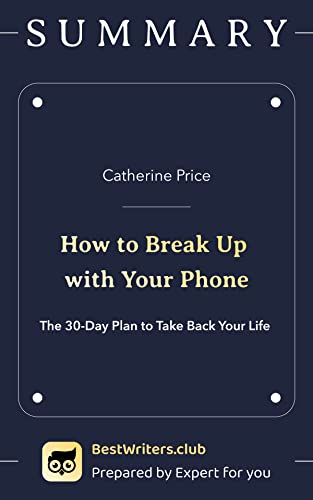 Summary of How to Break Up with Your Phone: The 30-Day Plan to Take Back Your Life - A practical guideline to get skills to stop using your phone
$2.99
(Please be sure to check book prices before buying as prices are subject to change)
Reason to Read This Summary
These summary will show you: How hunter-gatherer lifestyles influenced contemporary phone habits; the link between distraction and bad memory; and the hormone that controls sleep cycles.
Why Do You Need This Book?
It will be great to read for phone dependent people, inattentive and oblivious people, and for those, who are afraid and dislike new technology.
Why Do You Need to Read This Summary by BestWriters.club?
Our summary will give you the quality information in a short version and our team represents only important and needful extracts without the fluff. Now you don't need to spend a lot of time for reading books, you can get the main ideas from this summary. Bestwriter's team gives you a new way to be free.
Digital Books

Book Length: Short Story – 0-60 Pages
Leave a review about Summary of How to Break Up with Your Phone: The 30-Day Plan to Take Back Your Life - A practical guideline to get skills to stop using your phone. Login Now