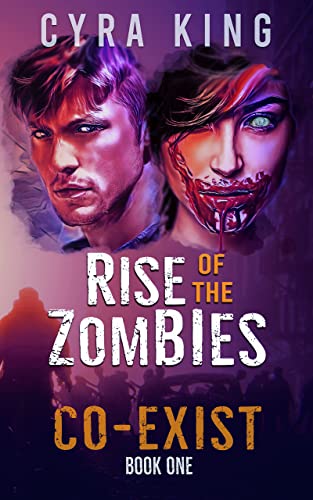 Co-Exist: Rise of the Zombies
By Cyra King
$4.99
(Please be sure to check book prices before buying as prices are subject to change)
Gripping, horrifying, packed with action and twists. Experience a broken world through the eyes of a sentient zombie. This post-apocalyptic/dystopian romance thriller will make you cry, laugh, and maybe even root for the flesh-eaters.

Double shifts and burnout are all in a day's work for Nurse Megan Cole. No one's going to die on her watch. Then a viral apocalypse kills all her patients and turns her into a sentient zombie, forcing her to re-evaluate both her life goals and dietary habits.

Fast-forward a year, the city is ruled by the ruthless Salt Lake Z Council. But with her boyfriend Mike by her side, things are okay—until the Council sends Mike to infiltrate the army. When Megan discovers a mangled corpse days later, her world—and the illusions around it—shatter.

Don Meier, the nation's top surviving scientist, is close to finding an antidote. However, the final test run is a disaster. The Council gets wind of the 'cure' and imposes their sinister agenda under the guise of salvation.

Smack in the middle of mayhem are Megan and her new found friends—a motley crew of conscientious Zegans. While they try to prevent the Council from destroying their only hope, Don risks his wife and son's safety to unravel a military conspiracy.

It's a frantic race for Megan and Don to rescue humanity before there's nobody left to save.
Digital Books






ASIN:
B0BK6RS616
ISBN:
9786299712701
Book Length: Long Novel – 320-650 Pages
Leave a review about Co-Exist: Rise of the Zombies. Login Now