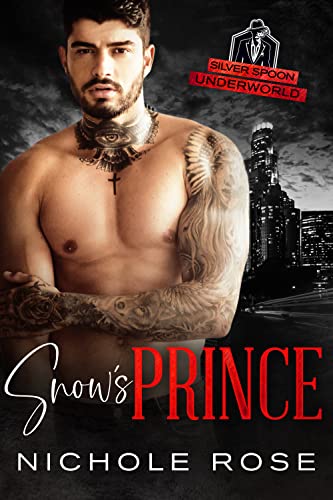 Snow's Prince: A Modern Day Mafia Fairytale
By Nichole Rose
$2.99
(Please be sure to check book prices before buying as prices are subject to change)
Falling for Snow was the last thing this mafia prince intended to do.

Dimitri
Silver Spoon Falls was supposed to be an easy mark.
Instead, I'm up to my ears in cartels and complications.
I waltzed into enemy territory to investigate...
And waltzed back out with a new mission in life.
Protecting Snow Buchanan from her stepmother and her cartel of henchmen.
Her seven furry friends doubt me.
Her stepmother wants to kill her.
And all I want is to lay siege to her heart.
This curvy little princess will be mine.

Snow
When my dad died, I knew it was only a matter of time before my stepmother found a way to get rid of me too.
She wants his money, not his daughter.
But I didn't expect her to send trained killers after me.
I certainly didn't expect Dimitri Arakas, the gorgeous bad boy who makes my heart race.
He swears he's going to protect me.
But I just have one question...
Who is supposed to protect my heart from him?

Snow White's prince happens to be a mafia underboss in this steamy age-gap romance. And her dwarves? Well, they have four legs and a penchant for causing chaos! If you enjoy sizzling romance, OTT possessive heroes, curvy heroines, and a cadre of furry companions, you'll love Dimitri and Snow!
A new "family" is coming to Silver Spoon Falls, TX.
The well-known Arakas men are looking to expand their operations, and the small Texas town is the perfect place to start a new, less-than-above-board business venture. Along the way, the dangerous, wealthy men are going to find a whole lot of trouble...and the sassy women who will bring the possessive crime bosses to their knees. This family will turn the town on its ear looking for their curvy soulmates. Prince Charming's crown may be a little tarnished in this spin-off series of sweet and steamy mafia instalove romances, but these possessive bad boys always put their women first.
Don't worry, Nichole and Loni like to keep things light. Come along with us on this wild, steamy ride.
You've already fallen for the Silver Spoon MC. Now get ready to fall for the Silver Spoon Underworld!
Digital Books

Book Length: Novella – 60-150 Pages
More Books in this series from Nichole Rose
Leave a review about Snow's Prince: A Modern Day Mafia Fairytale. Login Now