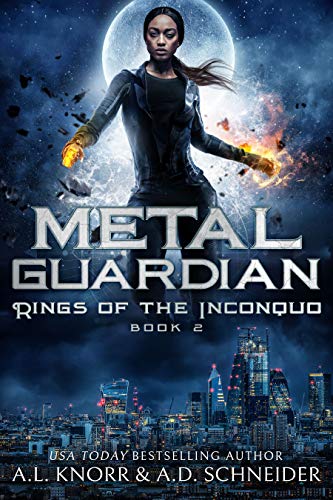 Metal Guardian: An Urban Fantasy Adventure (Rings of the Inconquo Book 2)
By A.L. Knorr
$3.99
(Please be sure to check book prices before buying as prices are subject to change)
With the help of her best friend Jackie and Uncle Irshad,
her only remaining family, Ibby has rebuilt a normal life after the chaos of
the year before when she discovered she was Inconquo––a metal-shaping,
iron-slinging guardian.
But a normal life is too much to ask for someone wielding
the power Ibby has.
When a secret society with sinister intentions returns to
resurrect the original Inconquo, a bloodthirsty demi-god of mythic
proportions...Ibby steps to the front lines. Stakes rise when she discovers treachery
among her trusted peers and learns she's not just fighting for herself and her
family but everyone who has Inconquo blood running through their veins.
With so much on the line, Ibby looks for help wherever she
can get it. When a hated enemy comes crashing back into her life, will Ibby
make a deal with the devil in the hopes that she can stop the apocalyptic
awakening?
Metal Guardian is the second book in the Rings
of the Inconquo trilogy. If you like new twists on old myths, kickass
women, and plenty of full-metal action, don't miss this exciting urban fantasy
series!
Digital Books

Book Length: Novel – 150-320 Pages
More Books in this series from A.L. Knorr
Leave a review about Metal Guardian: An Urban Fantasy Adventure (Rings of the Inconquo Book 2). Login Now