His Highness The Duke: A Qurilixen World Novel (Dragon Lords Book 5)
His Highness The Duke: A Qurilixen World Novel (Dragon Lords Book 5)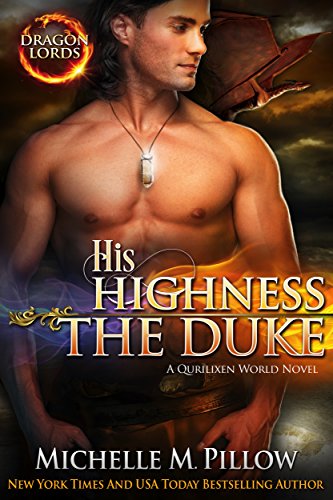 His Highness The Duke: A Qurilixen World Novel (Dragon Lords Book 5)
$4.99

(Please be sure to check book prices before buying as prices are subject to change)

---
Dragon Shapeshifter Sci Fi Paranormal Romance
The original Dragon Lords series by NYT Bestselling Author, Michelle M. Pillow.
The would-be heroine...
Aeron wants nothing more than to live out her very long, solitary life in a small metal room listening to communications for the Federation Military. It's not glamorous. It's not even charming. But it's safe and there's no chance of getting hurt.
When she intercepts a communication about an impending attack on the Qurilixian people, she has no choice but to act. No one at the Federation seems inclined to do anything and it's up to her to save them. Desperate, she enlists the help of her degenerate sister, whose only solution is to trick Aeron into signing up as a prospective bride to the primitive aliens she's trying to rescue.
The man who did not need saved...
Dragon-shifter nobleman Lord Bron, is not looking forward to his seventh failed attempt at a marriage ceremony. But when he sees the lovely Aeron he knows his years of waiting have finally paid off. Fate has blessed him with a life mate...
Or have they?
His new bride is insistent she's not there for marriage, but for a mission. Dragon shifters mate for life and it's up to Bron to convince her they are fated to be, or he'll risk spending the rest of his days alone.
About the Dragon Lords Series Books 5 - 8
The Noblemen dragon shifter brothers aren't new to the sacred Qurilixian bridal ceremony. After several failed attempts at finding a wife, it's hard to get excited about yet another festival. No matter how honorable they try to live, it would seem fate thinks them unworthy of such happiness... that is until now.
With very few words spoken and the shortest, most bizarre courtship in history, these dragons will bond to their women forever. And once bonded, these men won't let go...


5 Stars! "The dukes are much like their cousins the princes when it comes to women so there are some funny and sad misunderstandings to work through on the way to marital bliss, but it's a great ride and not to be missed. Love the series! Keep em comin!"
5 Stars! "I loved all four Dragon Princes books by Michelle M. Pillow so I was so excited to read about their royal cousins. This first book in the series did not disappoint, I loved it. The royal cousins are as hot as the princes!"
5 Stars! "This series has always been on my save and re-read list of all time favorites. I have been waiting for more spin off. The author now gives the reader the story of the high duke and his family getting their turn at the bridal mating ceremony."
A Qurilixen World Novel
Dragon Shapeshifter Paranormal, Science Fiction, Fantasy, Alien Romance
Read More...
---
---
Leave a review about His Highness The Duke: A Qurilixen World Novel (Dragon Lords Book 5).
Login Now

© 2022 CraveBooks. All rights reserved