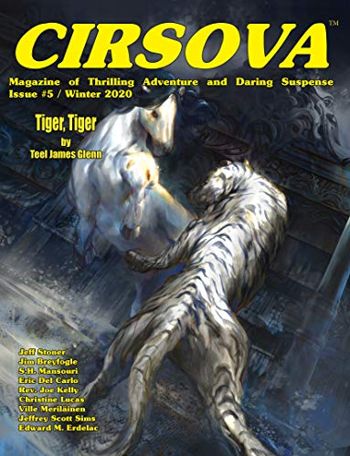 Cirsova Magazine of Thrilling Adventure and Daring Suspense Issue #5 / Winter 2020
By P Alexander
$2.99
(Please be sure to check book prices before buying as prices are subject to change)
Tiger, Tiger
By TEEL JAMES GLENN

Rumors of a charismatic occultist haunting a cabaret in Berlin has reached British intelligence! But is Major Smythe prepared for the powers of this prophet of Vril?!


Making Good
By JEFF STONER

A top-secret government facility has gone into lockdown! The suits have arrived, as has the mysterious Doctor Paasche, but what will it really take to stop the threat?!


Pulsa
By EDWARD M. ERDELAC

Otto Hueber, a widower living in Argentina with his son, believes he's escaped justice for his war crimes...until a plague of blood coincides with a mysterious brand!


White Casket
By VILLE MERILÄINEN

Vilja has been cursed by a powerful forest spirit-in return for her own life, she must care for orphaned children to raise as her own until he calls for them!


The Murmurous Dead
By ERIC DEL CARLO

Corth has made his first kill as a professional assassin! Before his next job, he must first sit and speak with the Wise Man...but what does his cryptic advice mean?!


Hunt of the Mine Worm
By JIM BREYFOGLE

A silvecite mine has been attacked by a giant worm! Kat and Mangos are among a band of mercenaries hired to deal with the threat, but who will claim the kill?!


The Cunning of Artocris
By JEFFERY SCOTT SIMS

It is not enough for Artocris to be the greatest in all the land-he must surpass his mentor, the powerful Imhotep! But to what diabolical lengths is he willing to go?!



The Cat, the Hand, and the Plight of the Sacred Bull
By CHRISTINE LUCAS

The High Priest of Anubis has a bad case of the cramps-and finds himself haunted by myriad livestock... All while his cat insists on dragging home various body parts!



A Touch of the Lokiean
By REV. JOE KELLY

Arnbjörg has been sentenced to die for killing a rival without honor! Can Oddr and his apprentice defeat the vengeful spirit when his victim returns as a draugr!?



Out Here
By S.H. MANSOURI

A young girl has been taken from her homelands and forced to live as a prisoner in the frozen wilds-only one companion offers her comfort in her savage captivity!

Digital Books

Book Length: Novel – 150-320 Pages
More Books in this series from P Alexander
Leave a review about Cirsova Magazine of Thrilling Adventure and Daring Suspense Issue #5 / Winter 2020. Login Now