Best Books On The Art Of Not Giving A Fuck
So it seems in the literary world you can just insert the work F*ck in hopes that it makes you a best seller.  Here at Crave Books we know this is not the case.
Let's review 13 books we found from a trip to our local bookstore that contain the word "F*ck".  Now we only really looked in the self help books and we didn't really spend anymore than about 73 minutes looking up these books.  Yes, thank you we didn't use Google, Bing, Yahoo, Yandex, Baidu, Daum, Naver or Seznam to pre-sort our results.  We did this the old fashion way by actually reading book spines by author and title in the appropriate section…growling I know…but oddly satisfying as well.
Without further ado…here is our list of 13 "F*ck" type self help books with some top Amazon reviews.
The Subtle Art Of Not Giving A F*ck
With over 10 million copies sold, Manson's book cleared the way for others to follow. From superblogger to bestselling author, he took his self-help philosophy of cutting through the crap and leaving positivity by the wayside to the next level with this book.
Manson prefers a more realistic approach to life. Forget the rose-tinted glasses and the dire need for everything to be okay—he truly believes these things drove us to becoming a spoiled generation and is determined to break us out of it.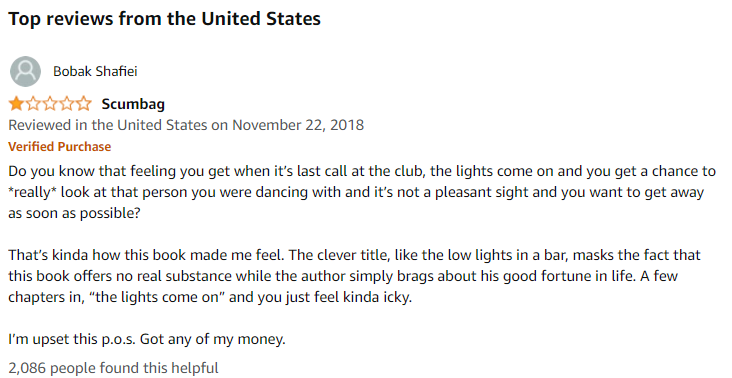 See more reviews for The Subtle Art Of Not Giving A F*ck here on Amazon
F*cks To Give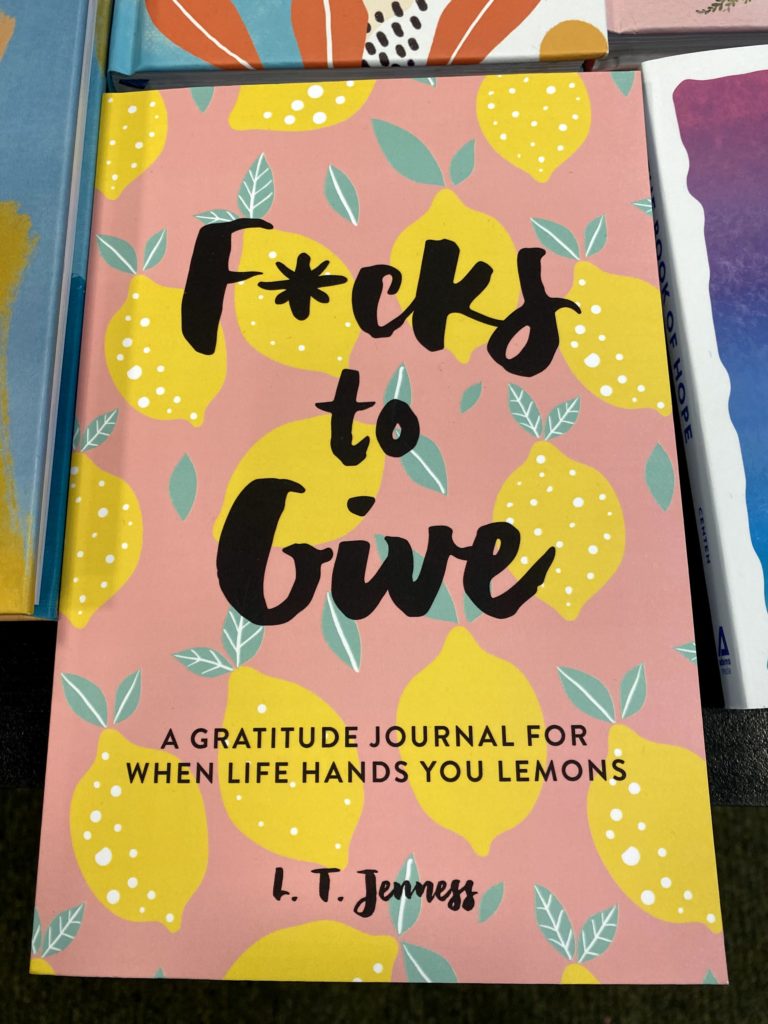 Instead of writing her own book about not giving a f*ck, author L.T. Jenness thought you should write it yourself. It's f*cking genius.
This guided journal is filled with quotes, tips, and suggestions to help you write your way out of your funk towards gratitude. F*ck knows we could all stand to practice a little more of that.
Amazon buyers seem to love it, too. It's got a solid 5-star rating and the reviews are glowing.
This review from Amazon seems to be a little better than the one above.
If you like lemons and want to make some lemonade, check out F*cks To Give on Amazon
Calm The F*ck Down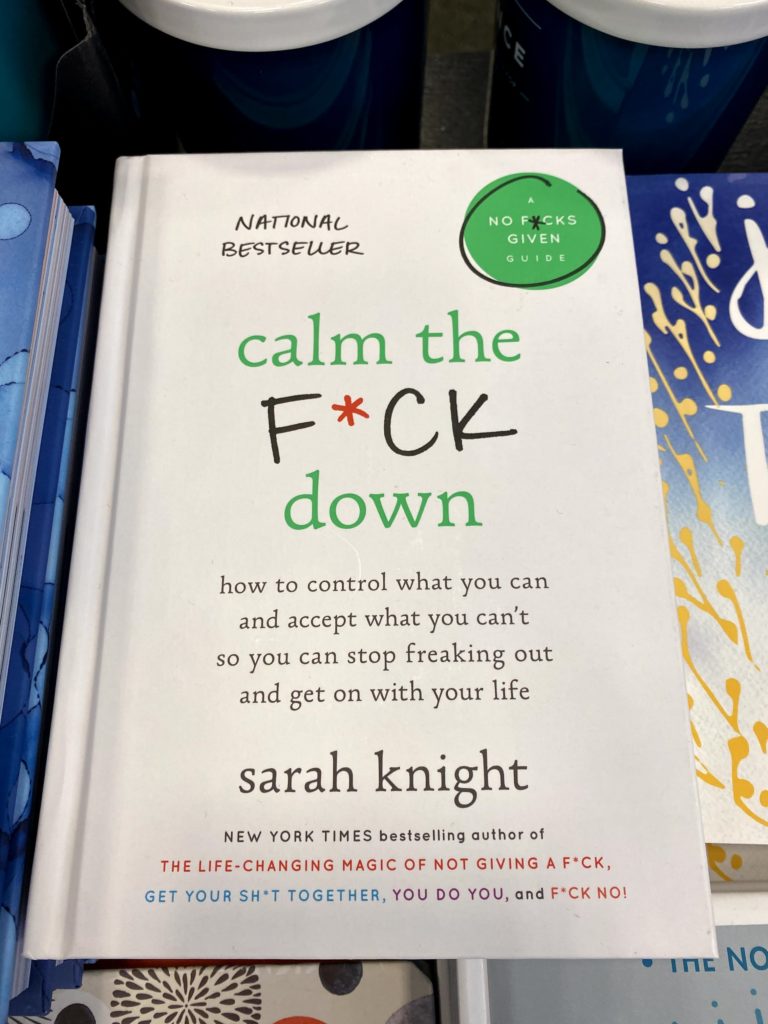 In this highly rated self-help book, Sarah Knight revisits the serenity prayer with a few F-bombs thrown in for good measure. She has two other similar books under her belt, The Life Changing Magic of Not Giving a F*ck and Get Your Sh*t Together, proving that f*ck isn't the only expletive selling books.
The guiding principle of the book is 'just because things are falling apart doesn't mean you can't pull it together.' Sage advice for these crazy, f*cked-up times. 
Check out the reviews on Amazon. I think my favorite one is from Lisa, who complains there's "too much swearing."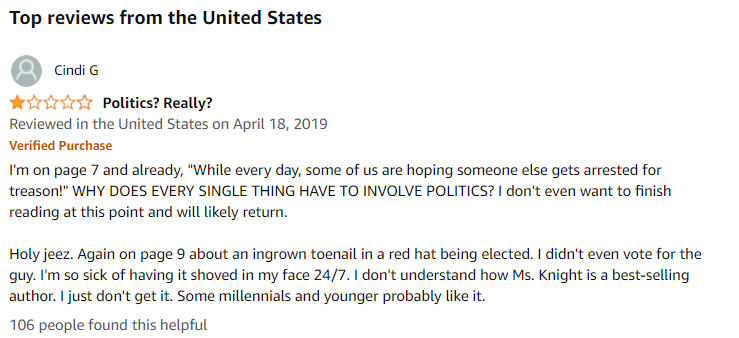 F*ck Stress
Author Alex Martin makes bold promises with this stress management guide, telling readers he can turn them from a worrier into a warrior. If anxiety is your Achilles heal, Martin promises to help rewire your brain so you can cope with whatever life's thrown at you. Which is exactly the same promise my medication makes, but I digress.
There are only seven ratings on this one, as opposed to the hundreds and thousands the other books have, so if you're feeling charitable, maybe give this f*cker a little love.
We were a little confused by these reviews on Amazon.  Seems like there might be 4 ratings but no reviews?  We asked the friendly staff at Barnes & Noble and they couldn't give us any good insight or reviews.  Not sure on how many people have actually read this book.
Find Your F*cking Happy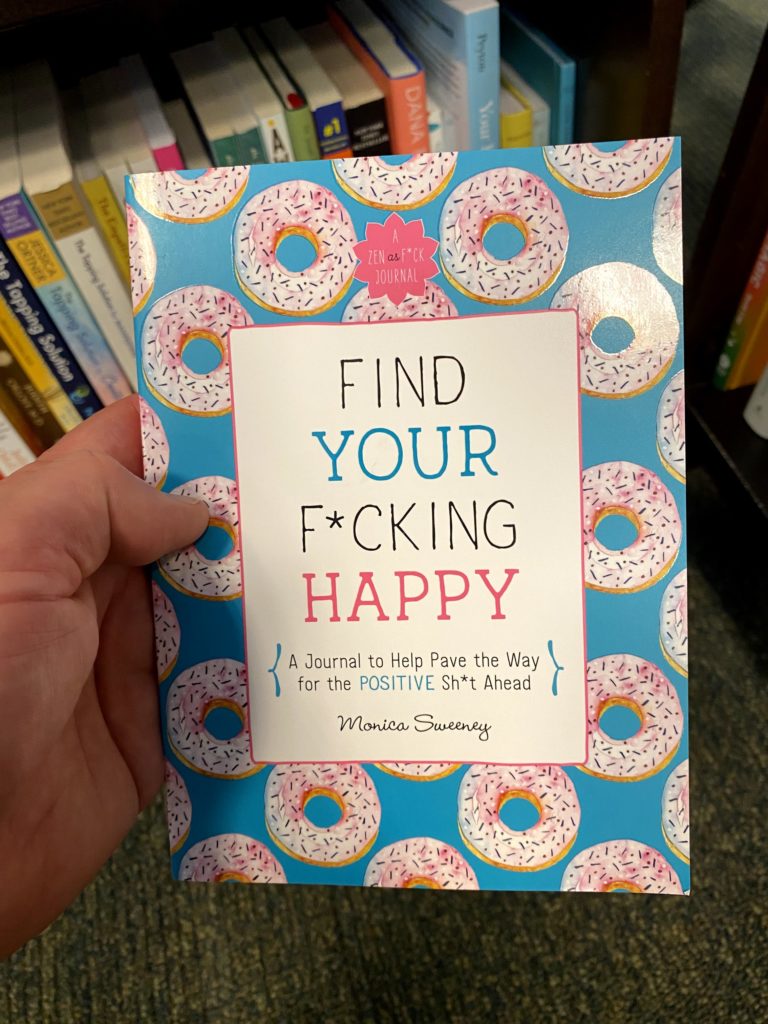 This journal from Monica Sweeney has over 3,000 4-star reviews and I'm starting to think I should throw the word f*ck into the title of my next book. 
From the description, it appears to be a fresh take on the gratitude journal, filled with delightful profanities to help you get through your day. Rather than the "screw positivity" attitude of Manson's book, Sweeney seems to embrace seeking out the positive in our everyday lives. Just to be f*cking different.
Read some reviews from Find Your F*cking Happy.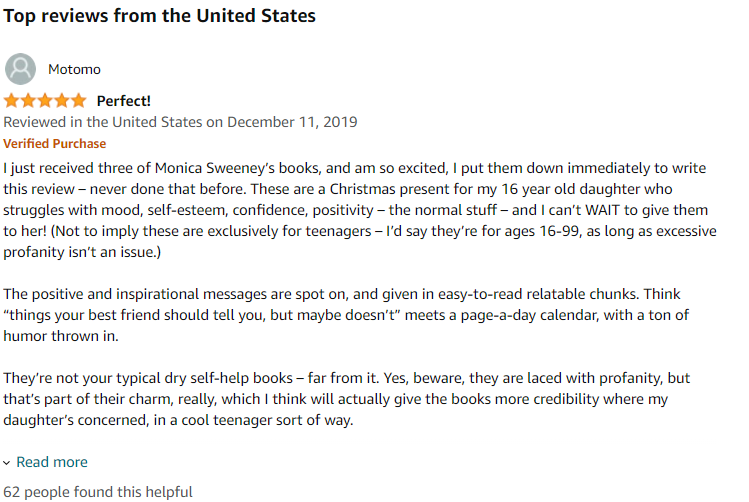 F*cking Sunshine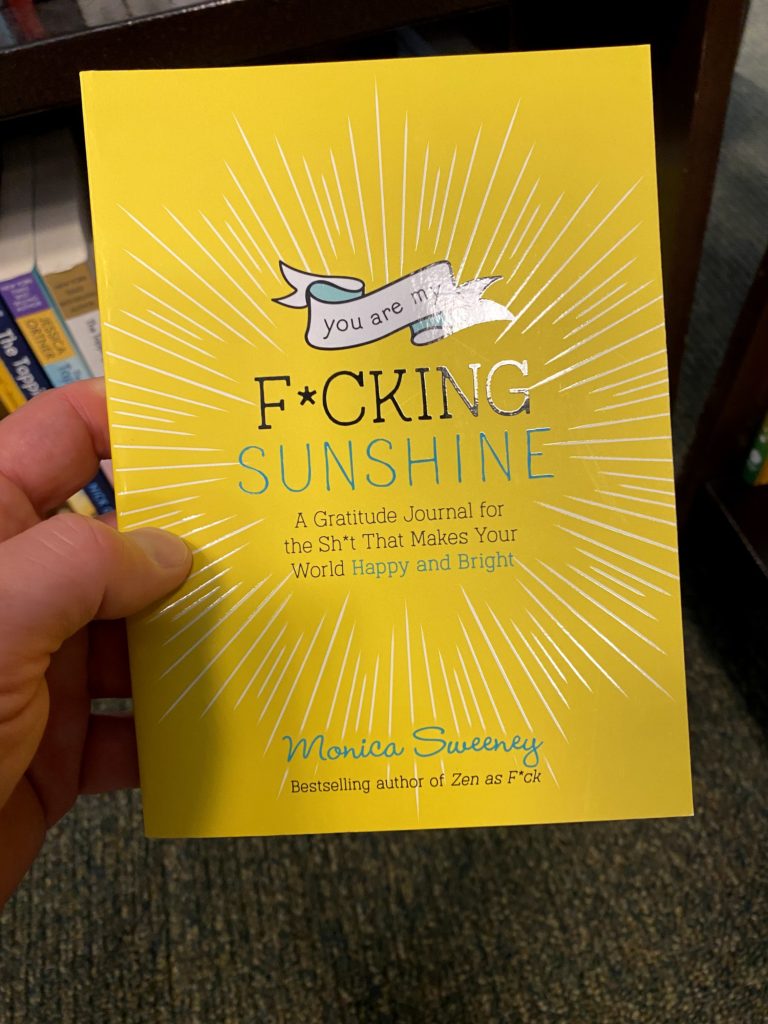 Author Monica Sweeney knows a good gimmick when she's found it, and she's back again with her second journal, this one with a small twist on her first. 
In this guided journal, Sweeney invites you to vent, muse, and recognize the crap that's bringing you down. Still seeking the positive, here she embraces all the levity life has to offer.
Read reviews for You Are my F*cking Sunshine
And in case that wasn't enough, Sweeney went on with a full line of what she dubbed "Zen Journals," including Zen as F*ck, Zen as F*ck for You and Me, Zen as F*ck at Work, Get Sh*t Done, and Let That Sh*t Go.
I Am F*cking Radiant
The tagline for this one says it all: A self-care journal for when you realize buying a scented candle isn't actually going to make you feel f*cking better.
D.A. Sarac's book is offering a self-care revolution. Forget what your friends say, ditch the fancy spas, pass on the pricey potions—you just do you. Whatever it is that makes you feel good, Sarac is there for you!
Reviews for I Am F*cking Radiant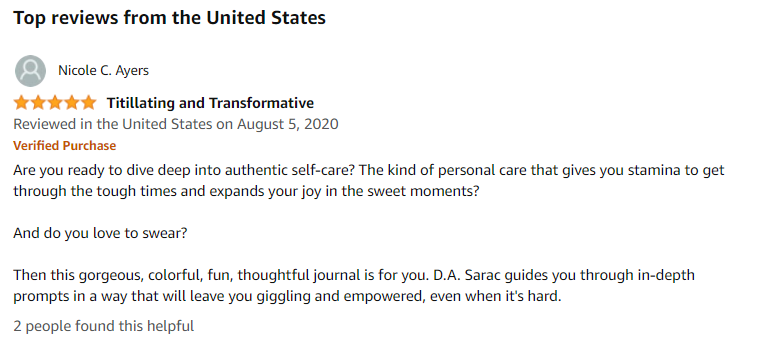 F*ck Love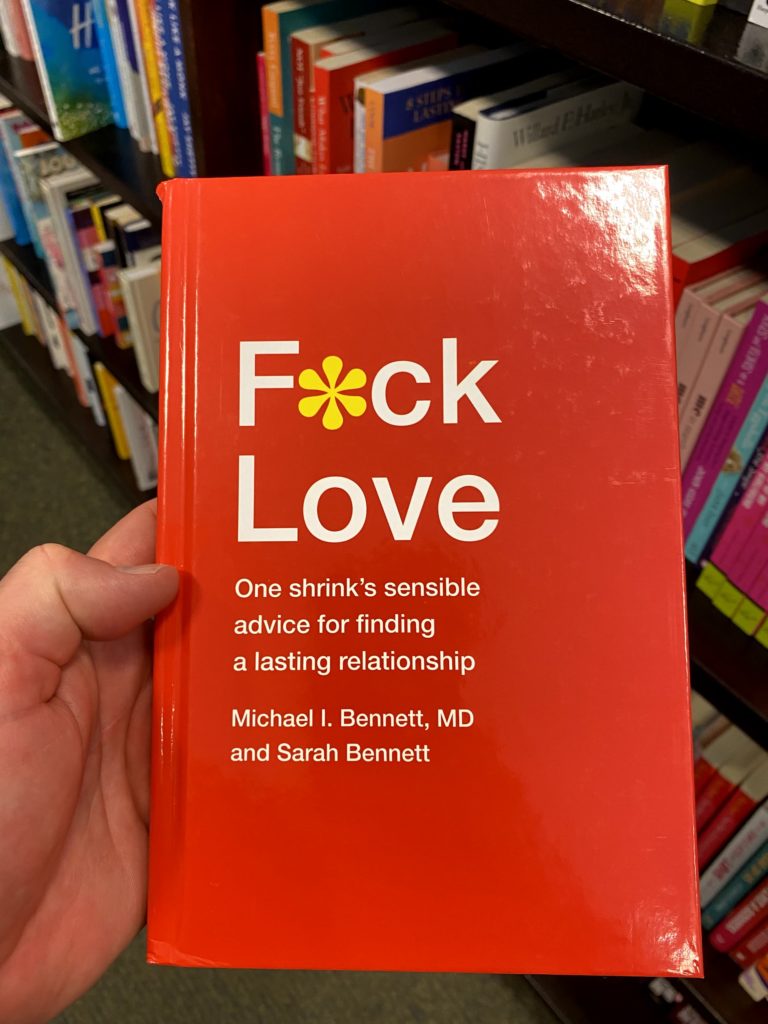 Finally! A f*cking book that's not about gratitude or self-care! This tome focuses on love and finding the perfect partner. (Is that the opposite of self-help? Unsure.)
The theory posited here is that we need to give up our preconceived notions of who our partners should be and stop basing our decisions on feelings, rather than specific traits. So this book takes that route, examining 8 different personality traits we seek out in a mate.
Reviews for F*ck Love
All The F*cking Mistakes
Well, it's about time we brought this conversation around to the bedroom. We've now looked at over a half dozen books with fuck in the title and this is the first one about sex. 
The subtitle on this beauty says it all: A guide to sex, love, and life. It's touted as a sex-positive guide for millennial feminists looking to own their pleasure and I am here for it! With over 100 4- and 5-star ratings, the reviews are positively glowing…much like the readers, I imagine. Diana Reynolds from the US says, "As an older millennial, this is a book I wish I had as a young adult. "
Read some more reviews for All the F*cking Mistakes
Mindful As F*ck
So by now this titling trend is getting a little tiresome, but this one actually made me laugh out loud. At first glance it looks like a great little journal meant to stick it to those smug assholes who manage to get through life without any anxiety, but when you flip through the pages, it's actually just a journal with some snarky quotes on each page. 
It does have a killer title, though, and close to 1000 glowing reviews.

Do The F*cking Work
Saving the best fucking book for last, I think this one was written with writers in mind. 
Authors Jason Bacher and Brian Buirge of Good F*cking Design Advice have created quite the following over the years, inspiring artists and other creatives. With this book, they attempt to light a fire under your ass, get you to stop procrastinating, and do your best work. Blunt, funny, authentic—this book looks like a great read for those who just want to get it done.
Read some reviews for Do the F*cking Work
Tired of the F-word? Don't worry, the trend seems to work with other expletives, too. Here are a few books to check out:
This book starts on the assumption that the world is crumbling around us and all we need to do right now is figure out how to survive. I gotta admit, these authors might be onto something. And they didn't even have to swear.
Drawing on principles of mindfulness and Buddhism, Craig and Devon Hase pull out all the big guns to help keep you grounded and sane during a time of vast uncertainty. 
The Amazon reviews are glowing. 
Well. As the ultimate grudge-holder, this title really struck a chord with me. In this little gem, author Sophie Hannah proposes the theory that perhaps holding grudges is good for us. 
Exploring the psychological origins of grudges, Hannah offers some advice that may seem counter-intuitive and out of the ordinary, but in fact makes perfect sense. From a grudge's inception to the type of grudge we're holding, she examines it all and helps us determine what is and what isn't healthy behavior. 
Read some reviews for How to Hold A Grudge. 
I spent my entire life listening to my siblings tell me how self-absorbed I am, so this seemed like the perfect book to check out. And lo and behold, it's an Amazon Teacher's Pick. So there.
This guided journal allows us to end this post on a really fucking positive note in that it provides you with a space to practice self-discovery and self-revelation, allowing you to discover everything you ever wanted to know about yourself…and maybe a few things you didn't.
See what others had to say about All About Me.
We hope you enjoy our list of super awesome F*ck Books that don't really matter all that much.