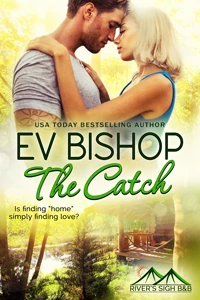 The Catch
By Ev Bishop
$3.99
(Please be sure to check book prices before buying as prices are subject to change)
Is finding "home" simply finding love?

Aisha
Bailey has been deeply afraid of change ever since she was a pregnant
teenager mourning the loss of her mother. This newly recognized truth
clashes with how she's always seen herself: fiercely independent,
spontaneous and willing to take risks, an entrepreneur bent on doing
something important and creating a financially secure, permanent home
for her and her daughter.

If she's none of those things, who is
she? If she's happy living and working at River's Sigh B & B for the
long haul, does that make her weak? But if she only pushes herself to
change in order to avoid seeming weak, isn't that worse? Her whole
future is up in the air and it's driving her crazy.

Then she
meets Jase, the big, gentle, crazy-sexy new groundkeeper. Suddenly, her
regular routines and homebody life are even more satisfying and
pleasurable than usual, and she catches herself dreaming of a life
partner and more children. It's . . . terrifying. Talk about things with
the power to hurt you—and to derail your plan to make plans! Plus, she
has enough people to worry about, thank you very much.

Drifter
Jase Scott is homeless and always has been. It was a constant source of
pain as a kid and doesn't hurt less with age. Thankfully, he has
construction skills and knows how to work hard. He's not broke and he
can take care of himself and his responsibilities.

When he and
his foster brother Colton hire on for a couple months' labor at River's
Sigh B & B, Colton is bored, but Jase finds himself in the kind of
home, amidst the type of family, he's always longed for. And best of
all, there's Aisha, a woman like no-one he's ever known. He's not
deluded. Guys like him don't end up at places like River's Sigh B & B
permanently, no matter how hard they work. And someone like Aisha could
never truly belong with the likes of him—something she'll be the first
to say if she ever finds out the secret he's keeping.

Choosing to love is choosing to embrace change and risk pain. That's always the catch, isn't it?

Digital Books





ASIN:
B082MYH7SQ
ISBN:
978-1-77265-036-5
Book Length: Long Novel – 320-650 Pages
More Books in this series from Ev Bishop