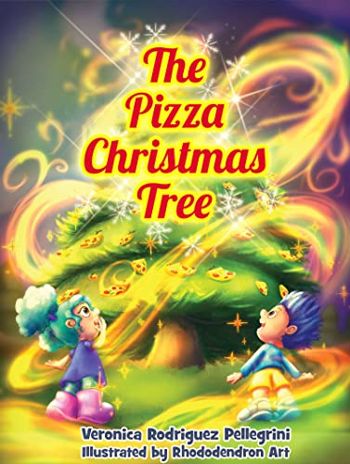 The Pizza Christmas Tree: A Children's Holiday Story
By Veronica Rodriguez Pellegrini
$4.99
(Please be sure to check book prices before buying as prices are subject to change)
Christmas magic and pizza for everyone!

Have you ever wondered what would happen if you planted your favorite food?

Imagine a crackling fire, a wreath hung on the door, and Christmas decorations galore.

Two children, Nina and Miguel, are enjoying some yummy pizza with their parents.

Later, while their parents sleep, the siblings plant two slices of leftover pizza in the backyard. What do you think will happen?

A wonder occurs, as a pizza tree begins to grow. The magical tree glows, glimmers, and shines in a variety of colors. The more excited the siblings get, the larger the tree grows!

But what will they do when the pizza tree grows too big to hide from their parents? And what will their parents do? Get mad – or will they all come up with the best idea ever?

Join them to find out, learn about the joys of magic, sharing, and community, and grab a slice of your favorite pizza!

ASIN:
B0BDTQ11QX
ASIN:
979-8218070366
Leave a review about The Pizza Christmas Tree: A Children's Holiday Story. Login Now